My husband wanders into the kitchen.
"Notice anything?" he asks.
I glance up from the myriad of morning chores I am multi-tasking.
He is dressed for work. Pants belted. Fly zippered. Dress shirt buttoned. Hair combed. Nothing seems amiss. Nothing pops out, screaming for attention.
"Not a thing," I say.
He humps. "What about my socks?"
My eyes travel to the floor. His left big toe is poking through a practically new black dress sock.
"Looks like you still have a lot of wear left in those socks."
"You would think that?" he sighs, exasperated. "But I don't. I want my socks thrown away when they develop a hole."
This story continues at humorwriters.org, please join me there where I am guest posting.
---
Thrown away?
Did I just hear you gasp? Me too.
Do you ever wonder what to do with all those single socks floating around your house? Hiding in your drawers? Well wonder no more. Because I come up with some pretty nifty ideas for those practically new socks with holes we all have in our possession.
This story continues over at humorwriters.org. Continue reading here and solve that problem that plagues anyone who wears socks or washes clothes.
** Disclaimer: None of the socks pictured below are socks from my husband's drawer or ones he wears.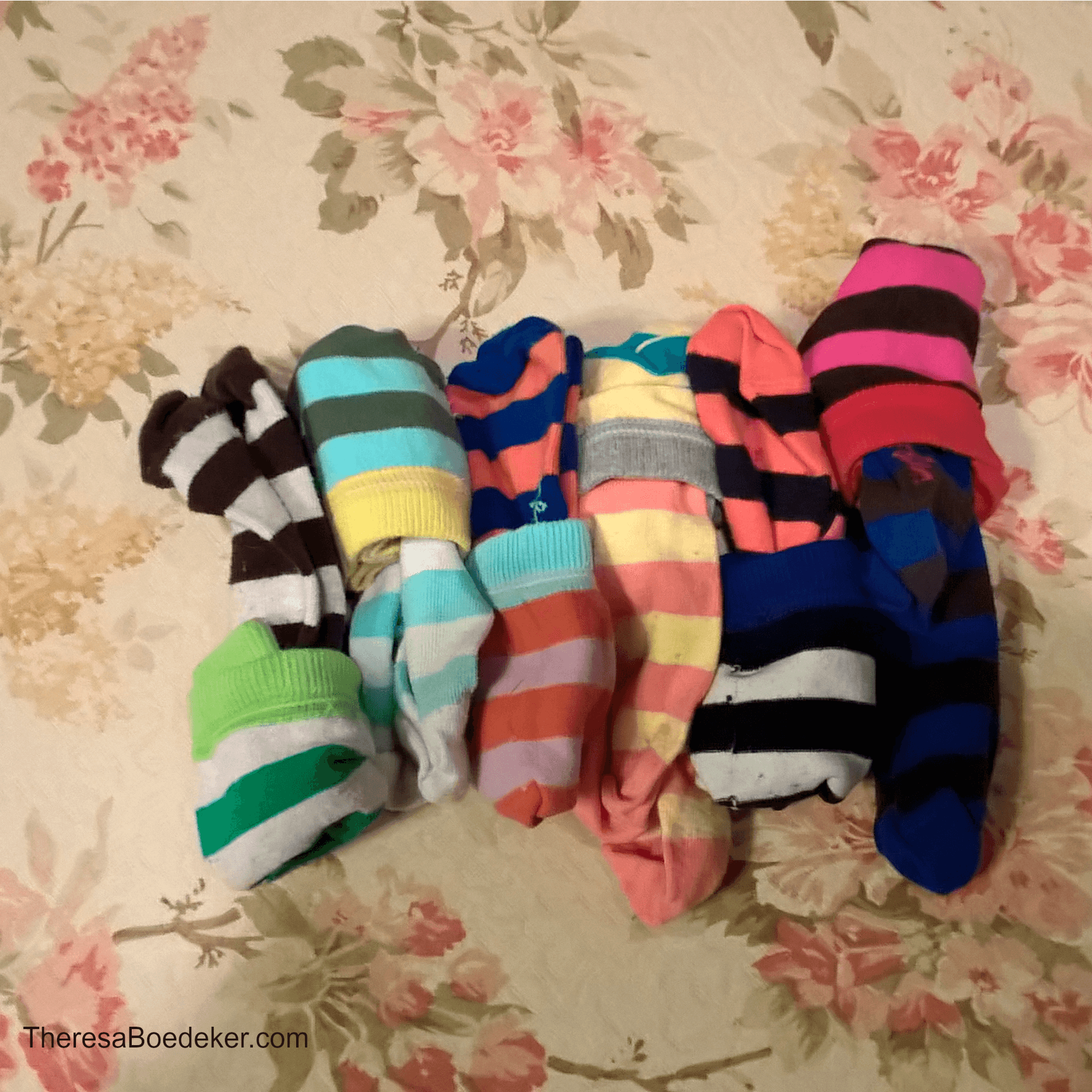 May link up at Kelly Balarie (#purposeful faitht), Crystal Storms (#HeartEncouragement), Maree Dee (#Grace & Truth), Anita Ojeda (#inspirememonday), and Mary Geison (#tellhisstory).
---
Receive hope, encouragement, and inspiration for your journey.
Latest posts by Theresa Boedeker
(see all)