All humans carry shame. It's part of being a perfectly normal person. Take the quiz and discover how shame may be affecting you. It's free and totally confidential. Only you will know the answers!
---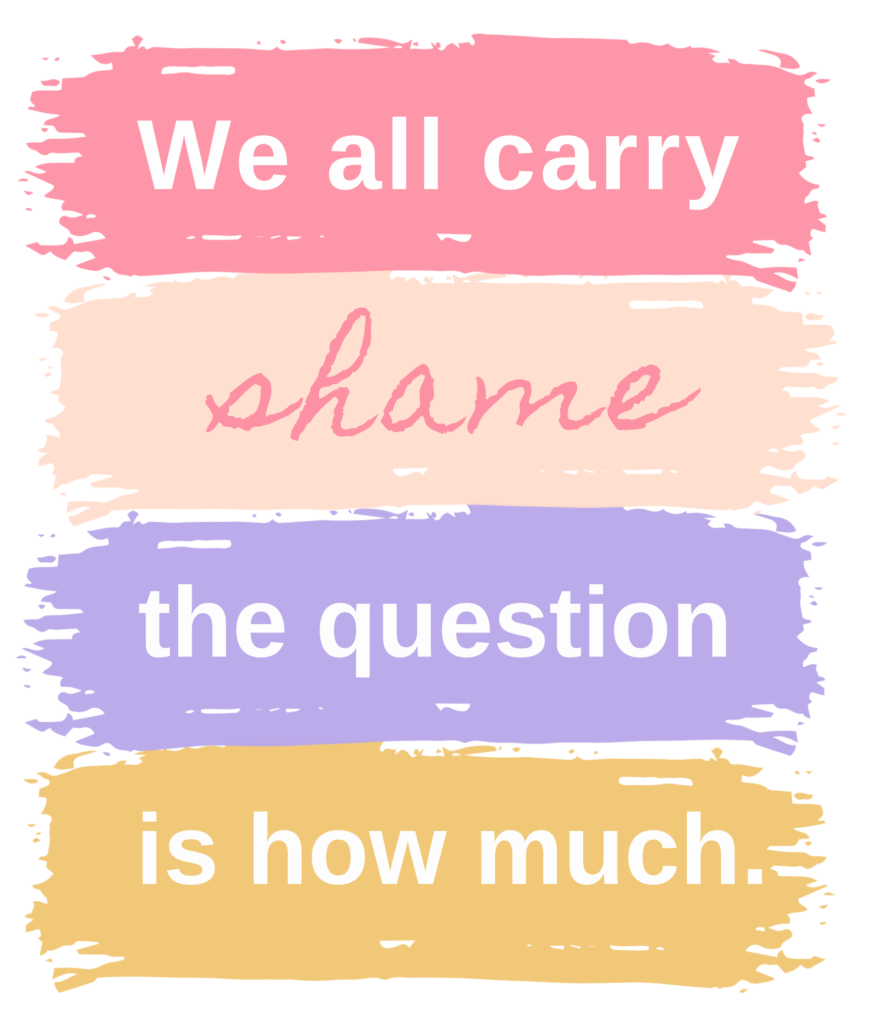 Take the shame quiz and discover that you are perfectly normal (and just like everyone else).
No email needed for results!
Instructions: Answer yes or no for each question.
1. Are you afraid to be wrong?
2. Does your self-talk tend to be negative?
3. Do you try to hide your true self more than reveal it?
4. Do you have deep hurts based upon words and experiences by others?
5. Do you wonder how people can love you?
6. Do you find it hard to forgive yourself?
7. Do you have negative core beliefs about yourself?
8. Are you nicer to others than you are to yourself?
9. Do you fear making mistakes?
10. Do you allow yourself to be human?
11. Is it hard to get close to people or be vulnerable?
12. Are you often defensive?
13. Do you think of yourself negatively?
14. Do you feel the need to be a perfectionist (thinking it would solve a lot of your problems)?
15. Were you ignored or minimized during your childhood?
16. Do your doubt God's forgiveness and grace and think they might not apply to you?
17. Did you learn to take care of yourself because others made you feel guilty for having needs or wanting things?
18. Did you feel your voice was taken away from you because people didn't listen to you or take you seriously?
19. Do you feel you need to earn love from others?
20. Where you praised or acknowledged for what you did and not who you were?
21. Do you feel down, hopeless, and overwhelmed more often than not?
22. Do you have trouble accepting a compliment, praise, or a gift?
23. Is unconditional love a foreign concept to you?
24. Do you hide your deep pain with addictive behaviors?
25. Do you wonder how God and others can love you?
26. Do you think people would have trouble loving you if they only knew you?
27. Did you grow up with conditional love?
28. Do you see yourself as flawed?
29. Do you dislike your body or hate parts of it?
30. Do you feel what you do on a daily basis determines God's love for you?
31. Do you have an area where you feel greater worry and fear than what you think is normal?
32. Is it hard to ask for what you want and need?
33. Do you treat others better than you do yourself?
34. Did your family discourage your self-worth?
35. Do you feel humiliation and embarrassment from things in your past?
36. Do you think everyone one else is happier and more successful than you are?
37. Do you have a hard time believing God, family, and friends can fully love and accept you?
38. Do you think self-care is selfish?
39. Do you have a hard time being assertive and standing up for yourself?
40. Do you compare yourself to others and often come up wanting?
---
Results: You are perfectly normal. None of us get through life without believing some of shame's lies.
The more yeses, the more likelihood that you were shamed by others in your past and during your childhood.
While this means you are a pretty typical human, I am so sorry you mistakenly believed the lies that shame whispered about yourself and your worth. Unless you have unpacked the lies of shame, they are probably still affecting you today.
But good news! You are hurt and injured. Not broken, beyond repair, or damaged. You can heal and enjoy life, be kinder to yourself, and feel more loved and accepted.
Freedom will NOT come in doing more, being more, or striving more (no, you have already tried these and they did not work). Freedom comes in realizing the truth about yourself. That you are valuable, worthwhile, loved by a creator unconditionally and that he delights in you. Not everyone believes the same lies about you that the people who shamed you want you to believe. Yes, it is hard to believe, but when we start dismantling the lies that shame taught us, we will begin to treat ourselves like we do our best friends. We will quit hating ourselves and parts of ourselves, and look at ourselves with kindness, compassion, love, and grace.
Don't you want this?
I want it for you. And your loved ones want the same for you too.
You deserve to walk in freedom from the lies that have been influencing you for so many long years.
First step! Learn about shame and how it likes to tell you lies about yourself.
Often we feel shame for and carry shame for things we are not responsible for.
The ways in which we see ourselves flawed, the places we may be most defensive about, the areas we feel greater fear and worry, and how we negatively view ourselves are most likely built upon shame caused by others towards us
Are you performance based? Feel unworthy? A people pleaser? Hate making mistakes? These are often tied to childhood events where we experienced shame. Shame we did not ask for, expect, or deserve.
We often think that shame is saying something bad about us, when in fact, the truth is that it is saying something bad about the people who shamed us. Those getting shamed are often the innocent victim. Yet they carry the shame and believe the lies of shame about their identity and worth.
It's time to toss off those lies and embrace the truth.
You should not have been shamed and treated that way. It is not your fault. You just reacted to their words and actions and tried to make sense of them the best you could. It's what we all do. Try and make sense of things. The problem lies in that you believed you were in the wrong. Which steals your identity and makes you at fault. Not them.
I am so sorry you were shamed. But now, you can choose.
It's time to quit believing the lies that shame tells you and believe the truth. It's your choice.
Choose truth. And in doing so you will quit carrying their shame for them. Freeing yourself to carry only the truth.
Want to know more about shame, here is a good place to start. We can't beat shame at its game, unless we know how the game is played!
Also get the free PDF about shame and how to deal with this big bully. (see below)
Remember the truth about yourself and your worth,
Theresa
Stop letting shame say, "You are NOT enough!"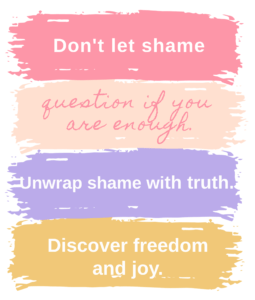 It's time to stop believing the lies that shame is saying about you.
To quit thinking you deserve less and it's your fault.
To quit hiding the real you.
To quit the negative self-talk about yourself.
It's time to learn the truth and change the narrative about yourself.
Learn practical ways to deal with shame. Exercises and tips to help stop shame from eroding your identity and stealing your joy. Avoid shame from tripping you up in the future.
What to Do When You Are Feeling Shame: A Guided Exercise will help you take steps towards that freedom.
It's time to stop letting shame be in control.
Learn more about shame and its impact on you.
Check out this page, Everything You Need to Know About Shame: Including How to Heal From It, to start learning about how shame is your enemy and affects so many aspects of your life. It is chock full of information and has lots of FAQ's that can answer your specific questions. Don't see the answer to a specific question, feel free to email me via my contact page and it may be added.