Thank you for considering Theresa Boedeker as part of your event. Theresa offers encouragement and hope to audiences by weaving life experiences with humor and God's word.
Theresa will speak to audiences of all ages. She will also tailor her message to each event, working closely with the event planner to determine the focus.
To see Theresa's Speaker Sheet go here.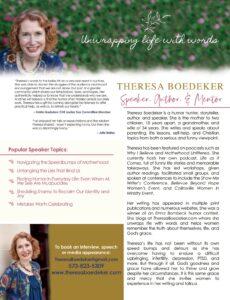 To see Theresa's Speaker Topic Sheet go here.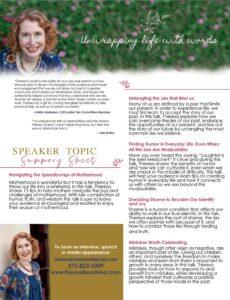 To send inquires, or for more information on booking Theresa Boedeker for a speaking engagement, please view the Contact Me page.
To see Theresa Boedeker's short bio, go here.
Possible speech topics about life include:
~ Shame: How It Attacks our Identity and Erases Our Joy
~ How Shame Keeps Us From the Life We Were Created to Live
~ Laugh More, Stress Less: How to Find More Humor in Life
~ Help! This Isn't the Life I Signed Up For
~ Keeping Expectations and Reality from Colliding
~ Striving for Perfection in an Imperfect World
~ Stop Striving for Perfectionism
~ Learning to Unwrap this Mystery Called life
~ Trusting When Trials Take Over Life
~ Finding Grace and Mercy in this Daily Chaotic Life
~ Some Thoughts on Marriage
~ Finding Joy in the Midst of Despair and Trying Times
~ 10 Reasons to Stop Striving for Perfection
~ The Importance of Mistakes: How We Celebrate Them, Embrace Them, and Learn From Them
~ The Value of Friendships: Why We Need to Make Time to Pursue Them
Here is a video of The Importance of Mistakes speech  (on One Drive)
For your listening pleasure, here is the speech on Friendship (which is a more serious speech). To listen, click the green triangle on the player below, or the white triangle on the second player.
Podcast: Play in new window | Download | Embed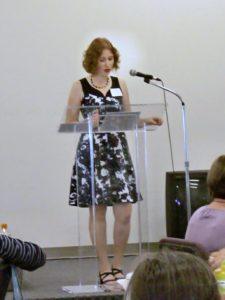 "I really appreciated the words of encouragement, humor, and wisdom that Theresa had to share."  – Annie Skelton
"Theresa's topic was so timely. I definitely needed to hear the encouragement she gave that day." –an attendee
"I so enjoyed her talk on expectations and the wisdom Theresa shared. I wasn't expecting funny, but then she was so disarmingly funny." – Julie Bailey