You've come to the right place if you are wondering what shame is, how it affects us and twists our identity, ways we are shamed, why we carry shame for years, the lies shame promotes, and how to combat shame and heal from it.
---
Hello and welcome precious reader!
Do you ever feel this way or hear these voices:
"You are not good enough."
"You don't deserve more."
"You don't have a seat here."
"Something is wrong with you and it is your fault."
"You are the problem."
"You deserved to be treated that way."
"Why do you even try?"
"You're worthless."
"The truth will send everyone running from you."
"No one would like the real you."
If so, you are not alone. And you are in the same situation as the rest of us.
Shame's goal is to twist and distort your identity. To keep you from being the wonderful, glorious, amazing you that you were created to be.
Shame wants you to believe the above lies. But don't.
Shame distorts our identity by telling lies about our identity.
Just like a jack-in-the-box, shame likes to pop its ugly head up and remind us we are broken. Not good enough. That our past defines our present and future. That we don't measure up to everyone else. That we are not smart enough. Brave enough. Skinny enough. Good enough. Loveable or perfect enough.
It tells us we have not done enough. Proved our worth enough.
It wants to whittle us down to size and kick us in the back.
It wants us to forget who we really are. Our true identity. And get us instead to focus on this false reality we think represents us.
Once we listen to the lie and start believing it, it starts distorting our identity. And as time goes on, we often keep validating and believing the lies about our self (our identity and worth) unless we use truth to stamp out and discredit these lies.
How shame affects our identity is that it says it is all our fault. That we don't measure up. That we need to try harder, do more, and hide our true self.
It blames us and holds us accountable, shaming us in the process.
And we accept fault and think that something is wrong with us.
This is how shame works. It is how it distorts our identity and diminishes our worth.
But it doesn't have to be this way. We can fight back.
To win the shame game, we first need to learn about shame and how it operates.
We can't beat shame at its game, unless we understand how the game is played!
That's why I am so glad you found this resource page about shame and how to deal with it.
First of all, don't feel bad that you have experienced shame. Shame is a universal human experience. So, don't ever feel shame about feeling shame.
We have all felt shame and carry injuries from shame.
Shame injures you. Hurts you. Which means you need healing.
You may feel bad, like you have no hope or there is no solution. Or you may feel flawed and like you need fixing, but what you really need is healing. Why? Because shame leaves deep scares and festering wounds that need special healing.
We do not choose shame. It is often something done to us or something we experience without our permission.
You probably have questions, and below there is a Q&A with a lot of answers.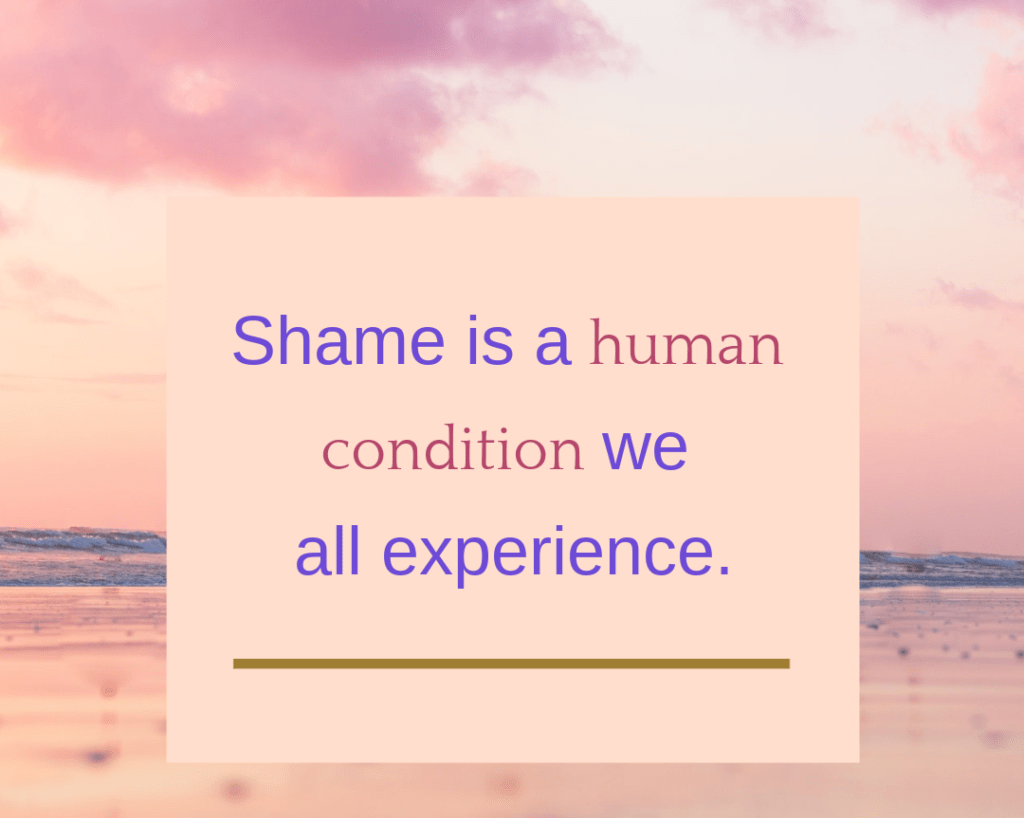 So we all have shame? Now What?
Freedom from shame is possible. Learn how to wrench shame from the driver's seat and operate and live in truth and love.
First off, this site will only welcome you, love you, and hand out grace. It does NOT in any way want to shame you, tell you it is your fault, or make you feel bad about what happened to you.
I want you to find freedom and release from shame. And you can. Because the one thing that shame distorts is our identity (who we are). Shame lies to us and says we are no good. Unlovable. That if anyone knew the truth about us, they would unfriend us. We are defective. And that it is all our fault.
Stop listening to those voices. Stop right now. Those are all just lies that shame wants you to believe. Shame's goal is to tear down your identity and steal your joy. And it is good at its job.
The truth is always different from a lie. And the truth is you are loveable. Worthy. Valuable. More so than you can even imagine. Yes, you are.
I will share below a few simple steps and some more knowledge about shame that will help you start your journey to quit believing all the lies that shame serves up to you. You can be free. Shame free.
We can't change the shameful experiences that happened to us, but we can choose to change what we believe. We can stop believing the lies from shame and and choose to believe the truth. We can be in charge of our reactions and emotions to shame and see it and ourselves differently
Let's get started.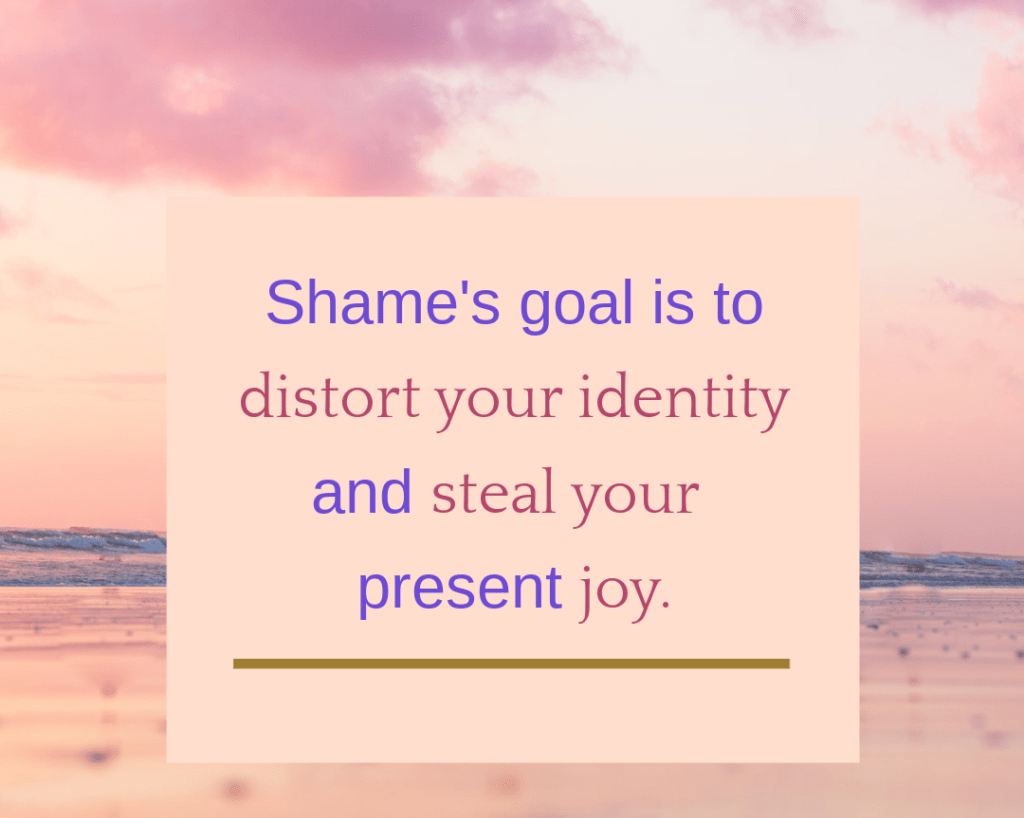 Shame is some of the heaviest and burdensome luggage we deal with.
Have you ever lugged a large suitcase around a busy airport? The kind without wheels and a broken handle that is 2 ounces below minimum weight requirements? You finally quit struggling and sit down to rest for a minutes and notice everyone zipping past you with their compact wheel racing suitcases they are pushing with barely a finger worth of pressure.
Shame can be like that broken suitcase you are trying to lug. And freedom can feel like exchanging your old suitcase with a new wheeled suitcase that zips effortlessly beside you.
But don't be fooled. If you are human, you carry shame. It may look like others are not burdened with shame, but shame is a human condition and something we all experience. People may look shame free, but we are not. Not unless we have dealt with our shame and done the work to combat its lies.
I wish I could wave a wand and stop all shame. But I can't.
As long as we are human, we will encounter shame, that is why we want to learn how to react to shame and deal with it.
Shame is not shameful. It is the human condition we all experience.
And that is sad.
But we don't have to let it have the last word.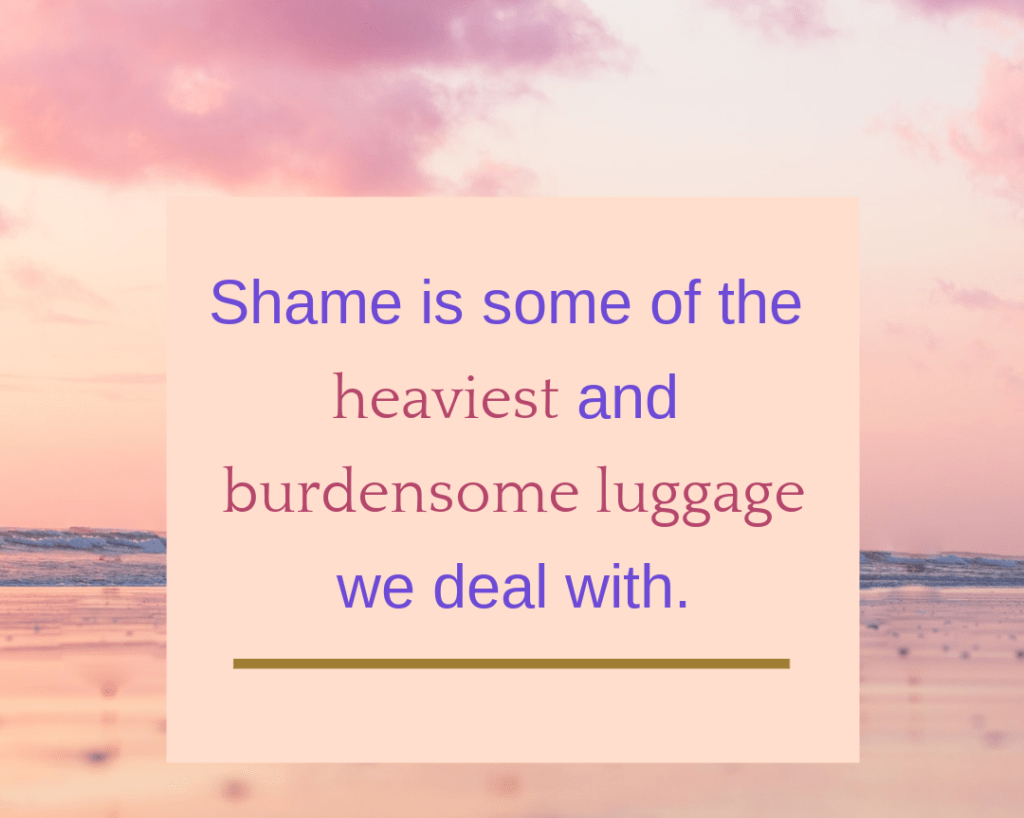 There is freedom.
Shame is a heavy word, but I don't want this to be a heavy topic. Because the good news is that we can reduce the feelings of shame we lug around. We can replace the lies, that shame has foisted upon us, with the truth. We can reshape the narrative we believe about our self and our identity. We can heal our hurts and injuries caused by shame.
Just the word shame, can cause us shame. We may feel it in our body (similarly or a little different from others), but we all have known and experienced shame. It is a universal emotion we as humans share and experience. No matter your race, age, country, language, or status.
Science has shown we start experiencing shame as early as 12-18 months. Long before we have the words or skills to deal with these formidable and powerful emotions which make us feel ill, want to hide, and feel there is something wrong with us.
I am a Christian, so my approach will look at this topic from a Christian viewpoint. But whether you are Christian or not, much of this information applies and can be used to heal from and stop shame in its tracks, no matter your religion.
Maybe you were googling this topic. Maybe you are looking for solutions or answers to questions. No matter why you landed here, you are invited to come in and relax.
You are brave for exploring this topic. Your journey may unearth some unpleasant memories and realizations, but freedom comes with some hard work. So brave reader, keep the goal in sight and celebrate your successes.
The truth about shame really can set you free from shame.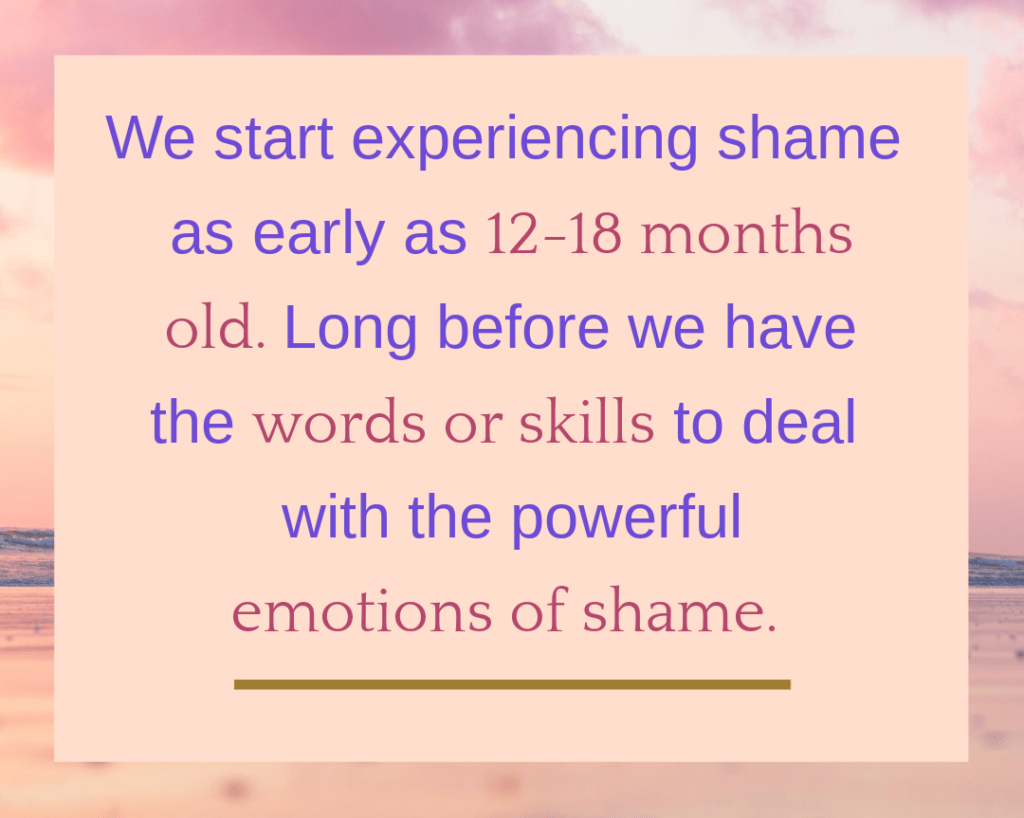 We are here to heal, not shame and blame others.
Please know that our goal is not to blame and shame the people who shamed us. That's not our job.
We have all used shame on others. None of us have a free-from-shaming-others-ticket and were most likely doing the best we could. And we can assume the same for the people who shamed us. People in pain, often lash out and hurt others. (No, that does not make what they did right. And yes, it caused us pain.)
That's one reason we want to gain freedom over shame, so we don't hurt people when we are in pain. When we feel like we are not enough and we are not liking who we are. When our self-worth is rickety and negative doubts and thoughts are running through our grey matter. We don't want to hurt and shame others.
We want to heal our shame that is distorting our identity and not pass shame onto those around us. We want to thrive and walk in joy (two things shame hates).
We want to unconditionally love others and ourselves, because they are opposites.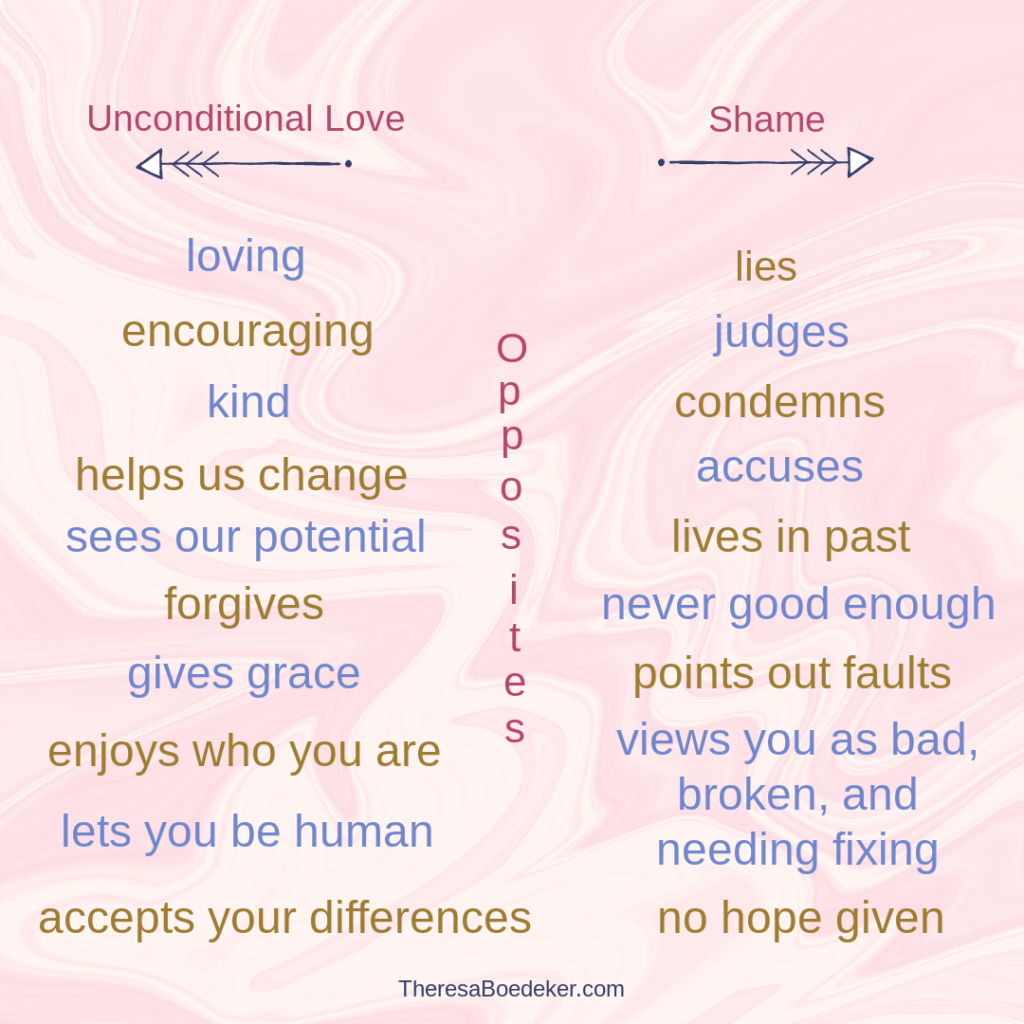 Let's start learning!
First off, there is a Q & A below. Click on the questions and see short answers. Want to know more? Dive deeper into the subject by reading the recommended web pages and resources.
Read 12 posts about shame. They cover everything from environments where shame thrives to how the lies of shame make us feel defective. One post looks at shame versus guilt, another looks at why we use shame on ourselves and others. Learn how to How to recognize shame, heal from it, and walk in freedom. Start with the first post why you are not meant to live in shame; the other 10 post will be linked and listed at the bottom of the post.
There is also a Shame Quiz you can take to identify some areas that shame affects you. Don't worry, the quiz is completely confidential. (Only you know the answers.)
Download the PDF freebie about shame and discover tips on dealing with shame. (see below)
If you want to dig deeper, here is a list of shame and identity resources. If you know of other good resources, please email me from my contact page. I would love to add them.
More about me.
I am not a shame expert, but I am a human who has experienced shame and been on a journey to silence shame in myself and others. My goal is to give people the tools to set themselves free from the bonds and lies that shame holds them in. So, look to me as a fellow traveler of life and a mentor who is a few steps farther along on this journey to freedom.
I set out to write one blog post about shame. That turned into research and thinking about shame for months as I wrote 11 blog posts about shame. Which set me on the journey of discovering how prevalent shame was in my own life (which surprised me because I didn't feel I had much shame), and then taking steps to heal the lies that shame left on my soul.
I am still thinking about shame and researching the topic. My future goal is to create a course to help others heal from and navigate shame. When we have the tools to deal with shame, our responses will be healthier and shame will not trip us up so much.
I don't want you to just believe everything I say, but think about it and judge it on its own merit. What I share are my own opinions, perceptions, and understandings of shame based on research and knowledge. I am a fellow traveler on this journey and don't know all the answers.
Shame brainwashes us and leads us to believe one way about our self and the world. But the truth frees us and helps give us a new way of thinking and being in the world. I hope this information does the same for you.
You can be free from shame and no longer held hostage by its chains.
I know, because I am freer than I have ever been.
I was raised by a toxic mother who used shame and conditional love as readily as she drank water (which sadly is probably how she was raised and so she was doing what she knew). For years I believed my worth was based upon what I did. That I needed to be perfect, and yet something was wrong with me. And more. Yet now, I am no longer bound by those insidious lies that shame led me to adopt and believe. I can not change the past, or other people, but I can choose to change my narrative, how I view the past, stop believing shame's lies about my identity, and instead believe the truth about myself.
You can too!
Choose freedom.
Cheering you on!
Theresa
P.S. Don't forget to take the shame quiz! Knowing what lies you are believing, is one of the first steps to breaking the lies and replacing them with truth.
Questions and answers about shame.