We love to talk, but sometimes it is better to listen. Learn 6 qualities of a good listener and give the gift of listening to others.
---
I had a brother who talked practically non-stop. He must have enjoyed listening to his voice, because he most often talked aloud. During loud activities, such as a shower or mowing the lawn, he just talked louder. You always knew where to find him because all you had to do was follow his voice.
Many a night I fell asleep listening to the noise of his voice coming through our shared wall.
Around him, you listened. Occasionally nodding a head or murmuring. But he did most all the talking.
I had another brother who had a dry wit that taped you on the shoulder and then caused you to laugh aloud. He could tell funny stories and keep an audience in stitches.
But he also knew how to listen. And he could be silent.
If you had something to say, he would listen. And then he would pause and be quiet. And then he would ask a well-placed question? A question or two that helped you come to your own conclusion or solve your problem.
He didn't often offer his opinion or advice, unless you specifically asked him. But you most often left the conversation with more insight than when you entered.
My two brothers were very different when it came to communication.
One listened to others. The other wanted to be listened to.
As I get older, I am trying to be more like the listener brother.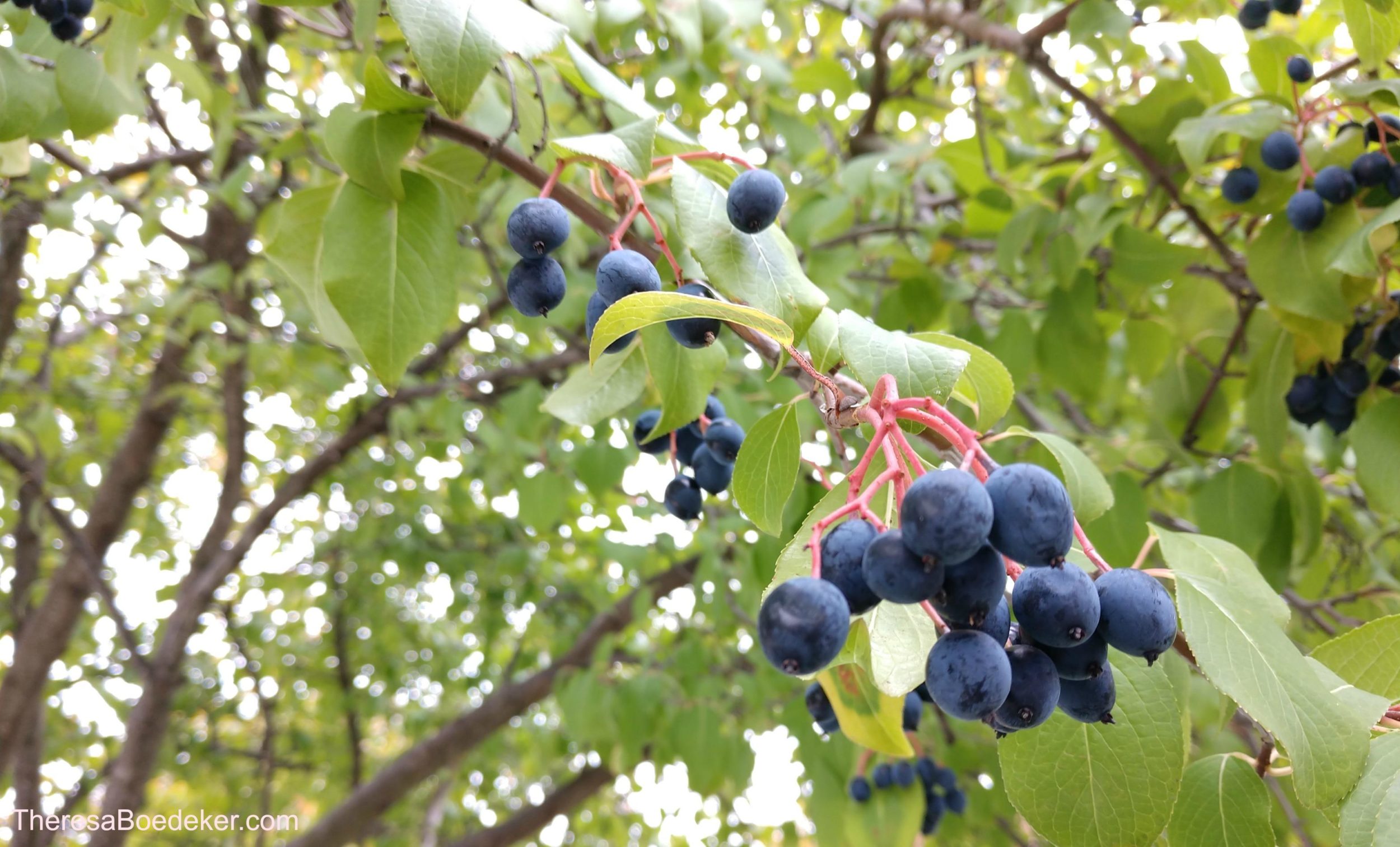 Qualities of a good listener.
Emily P. Freeman's Podcast, The Next Right Thing, Episode 94: Ask the Second Question, describes how she was paired with another person for an exercise in clarity. One person was supposed to talk about something they were trying to gain insight on or decide something about, and the other person was only allowed to ask a question. The speaker would answer the question and talk some more. Whereupon the listener could only ask another question. And then another question.
The goal of this exercise was to provide clarity and insight to the talker.
As Emily is describing her experience, I can feel her pain. Or maybe it frustration. The hard task of being quiet. Not contributing to the conversation. Of being engaged enough to ask a well-formed question that helps the talker while offering no ideas of her own.
But then it came her time to talk. And Emily was surprised that with the help of a few questions, she had more insight and clarity by the end of talking. The exercise was more helpful than she imagined. For both of them.
This exercise reminded me of my brother with the dry wit, and the talent he had to listen to others and ask questions that most helped the talker.
I have come to realize that these conversations were never about him. He instead focused on the other person.
He didn't fill the silences with chatter and in doing so redirect the conversation away from the original topic.
He didn't try and top their story with his own. "I know exactly what you are saying because when I lost my job . . .."
He didn't use their words as a segue into his own story, "That reminds me of . . .."
He didn't impart generic wisdom on the subject to assuage his guilt for their suffering or to soften their pain, "All clouds have a silver lining." "A blessing will come from this."
He didn't try and insert his own opinions and ideas, arguing why the person needed to do things his way.
He didn't get uncomfortable in the speaker's pain, grief, or distress and try to move them through the stages of grief in less than 3.2 minutes. Nor did he try and return them to joy before the end of the conversation.
He knew that problems are not often easily solved. Grief and sorrows need time to process and be slowly worked through. And that emotions circling heavy times cannot be worked out and neatly tied together through a quick conversation.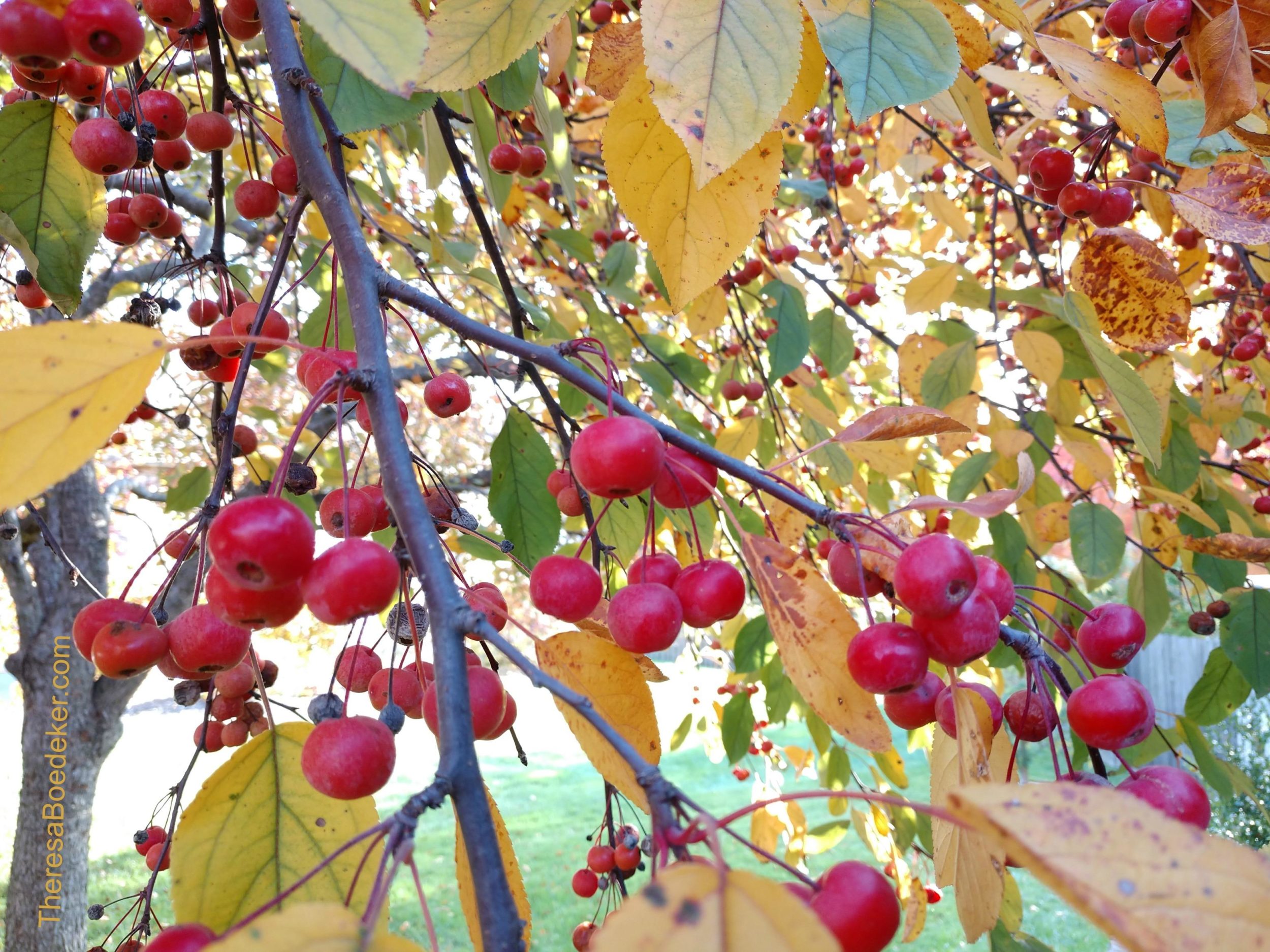 Why we need a listening ear.
To process life, our emotions, make sense of things, come to conclusions or a new direction, we often need time. Time to think and process. And time to think aloud and just listen to our words pouring through our mouth so we can make sense of it all.
A well asked question can help us explore our topic. Pivot us in a new direction. See a new perspective.
Hearing our words bounce through the air and be received by a non-judgmental listener, is one of the best gifts we can receive.
It is also one of the best gifts we can give to others.
Sometimes we need this gift as much as we need our next breath of pure air. And those around us need it too.
The goal is to let them talk through and process their emotions, clarify their timeline of events, walk through thoughts, try on ideas, and discuss the rawness of life.
Imagine how different our conversations would be if we provided this to others?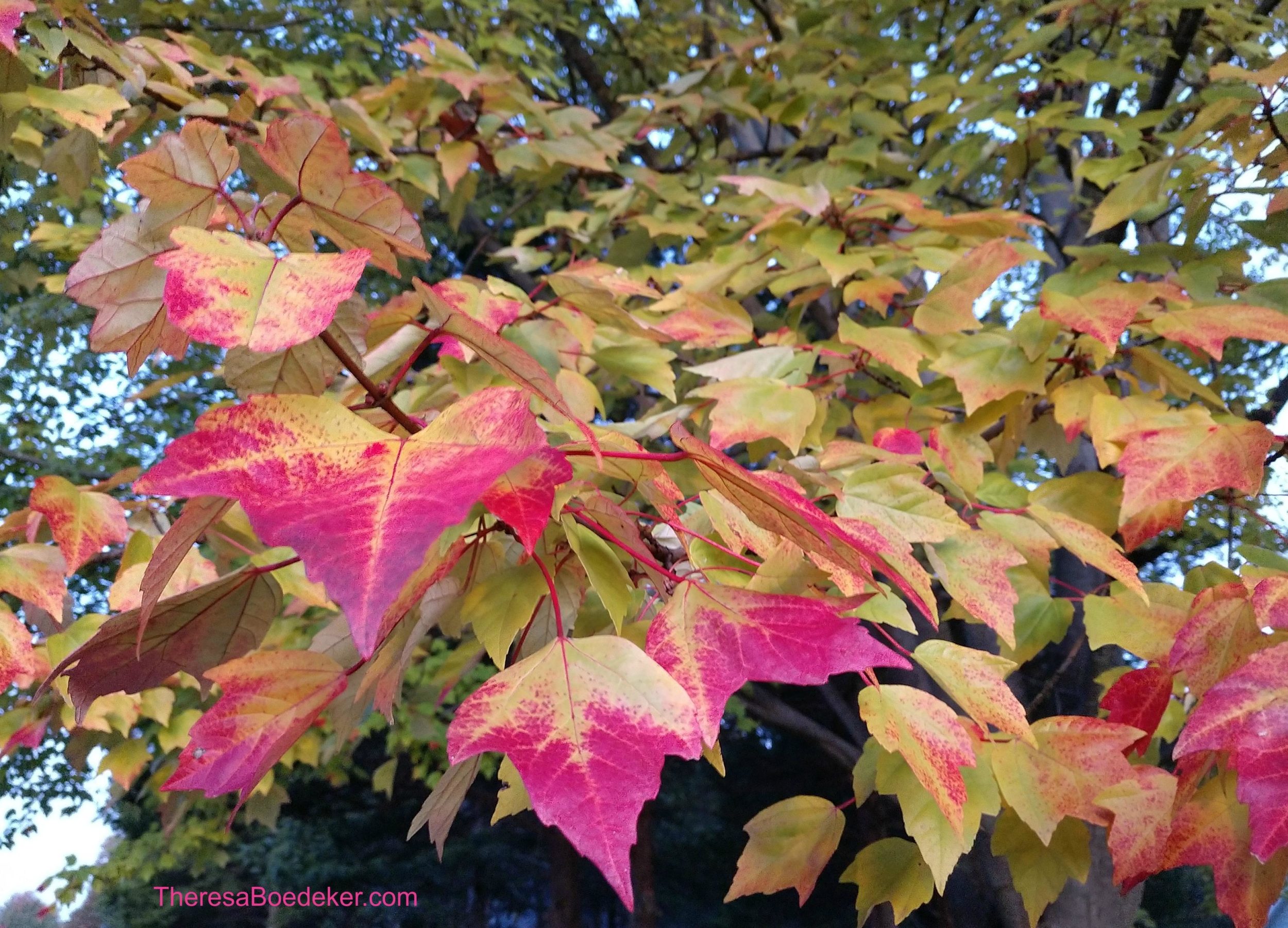 Imagine how our listening ears could help others.
If we listened more and asked a few good questions, conversations could change.
What if when our child complained about getting a bad grade; instead of asking them how long they studied and then launching into the usual speech on the importance of grades, we asked them why they thought they received a low grade? What if we asked a question or two that helped them determine the cause of their bad grade? What if we allowed them to talk a lot more than we lectured? What if we asked a few pointed questions and they came to their own conclusions: that they needed to study more, take notes, or . . ., instead of us diagnosing their problem, controlling the situation, or outlining the solution for them.
Maybe they would go away feeling heard and ready to put forth the effort to fix their problem.
What if when our mate came home and complained about having a bad day; we asked them what made their day so bad? What if we listened, instead of jumping in with our version of our bad day and started the competition of whose day was worst? What if we listened to their bad day story, instead of trying to top it with our story? What if we asked a question, and then asked how this made them feel? Or asked how we could help? Or if they needed anything from us?
My guess is they would feel heard, less stressed, and be more ready to listen to the story of our day.
What if our friend, who was walking through grief, had our listening ear more than our talking tongue? What if we held our small bits of wisdom that really help no one adrift in hurt, and instead asked them to tell us more. What if we bit the urge to tell them we knew exactly what they are going through and asked them what the hardest thing about their grief is? What if we quit trying to top their story with our own time of grief and just acknowledged their loss and grief. Told them we were sorry for them. Asked them how they were really doing. What was their mind going back to again and again? What emotions were swallowing them alive? What thoughts were drowning them?
What if we really listened and only asked another question that tied into what they had told us? Never changing the topic until they were ready to move on. What if we kept their confidence and guarded it like the treasure it was? What if we truly loved them and left judgement, opinions, and solutions at the door?
Wouldn't we be more vulnerable, and as a result, more healed?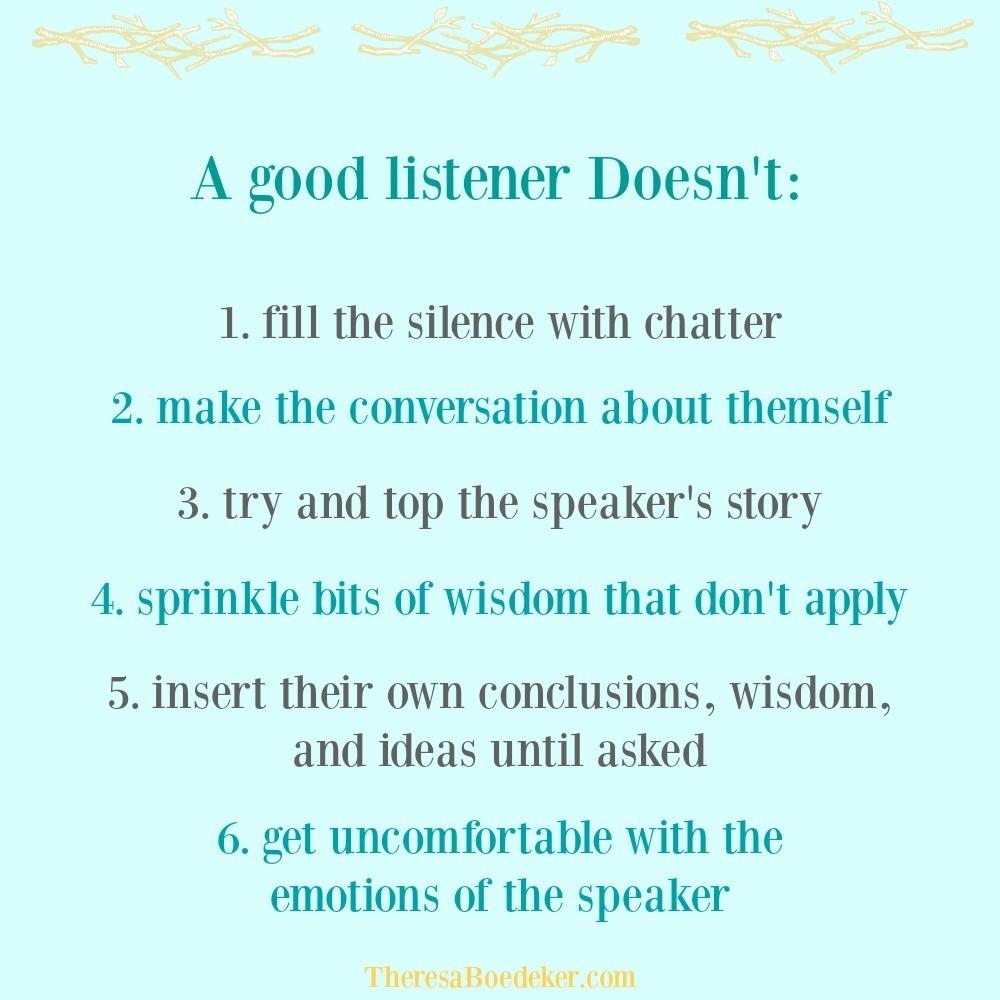 Thanks for stopping by. Keep remembering what's important.
Theresa
Join the Discussion: How has a listening ear helped you?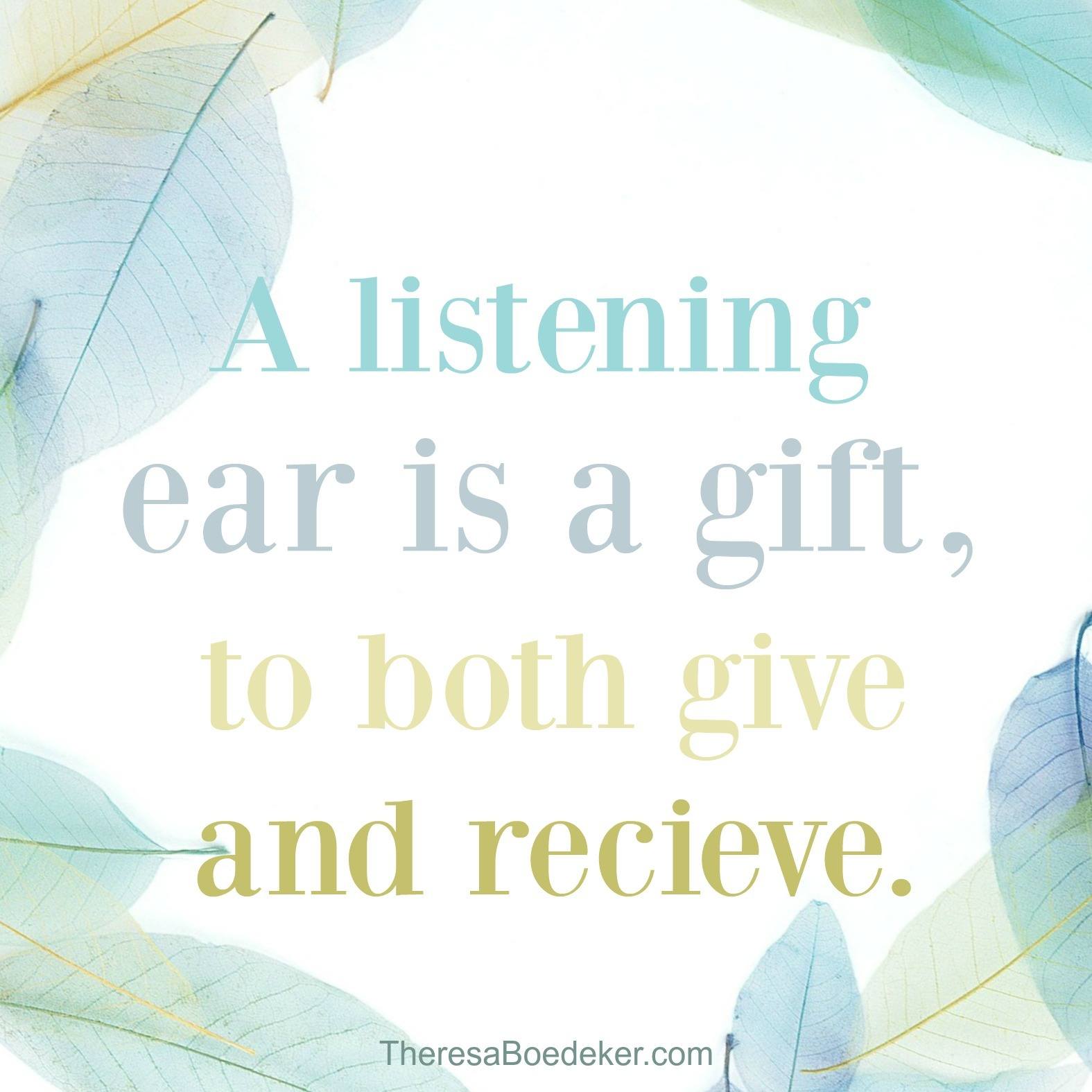 May link up at Kelly Balarie (#purposeful faitht), Crystal Storms (#HeartEncouragement), Maree Dee (#Grace & Truth), Anita Ojeda (#inspirememonday), and Mary Geison (#tellhisstory).
Latest posts by Theresa Boedeker
(see all)