Add fun and joy into Christmas with these 6 tips. Instead of orchestrating Christmas, enjoy the day with all its imperfections.
---
The desire to orchestrate the perfect Christmas that happens to most of us.
We watch Christmas movies where families look picture perfect. Peruse December issues of magazines with pages of perfectly decorated homes and delicious looking recipes. Discover multiple Christmas activities to try. Remember our favorite Christmas memories from childhood. And feel anxious every time someone asks us if we are ready for the big day.
Expectation's mount.
The pressure to create a perfect Christmas and experience for our loved ones, builds as the day approaches.
But maybe it doesn't need to be like this. Maybe we can quit trying to control and orchestrate, and let Christmas unfold, and in the process enjoy it more ourselves.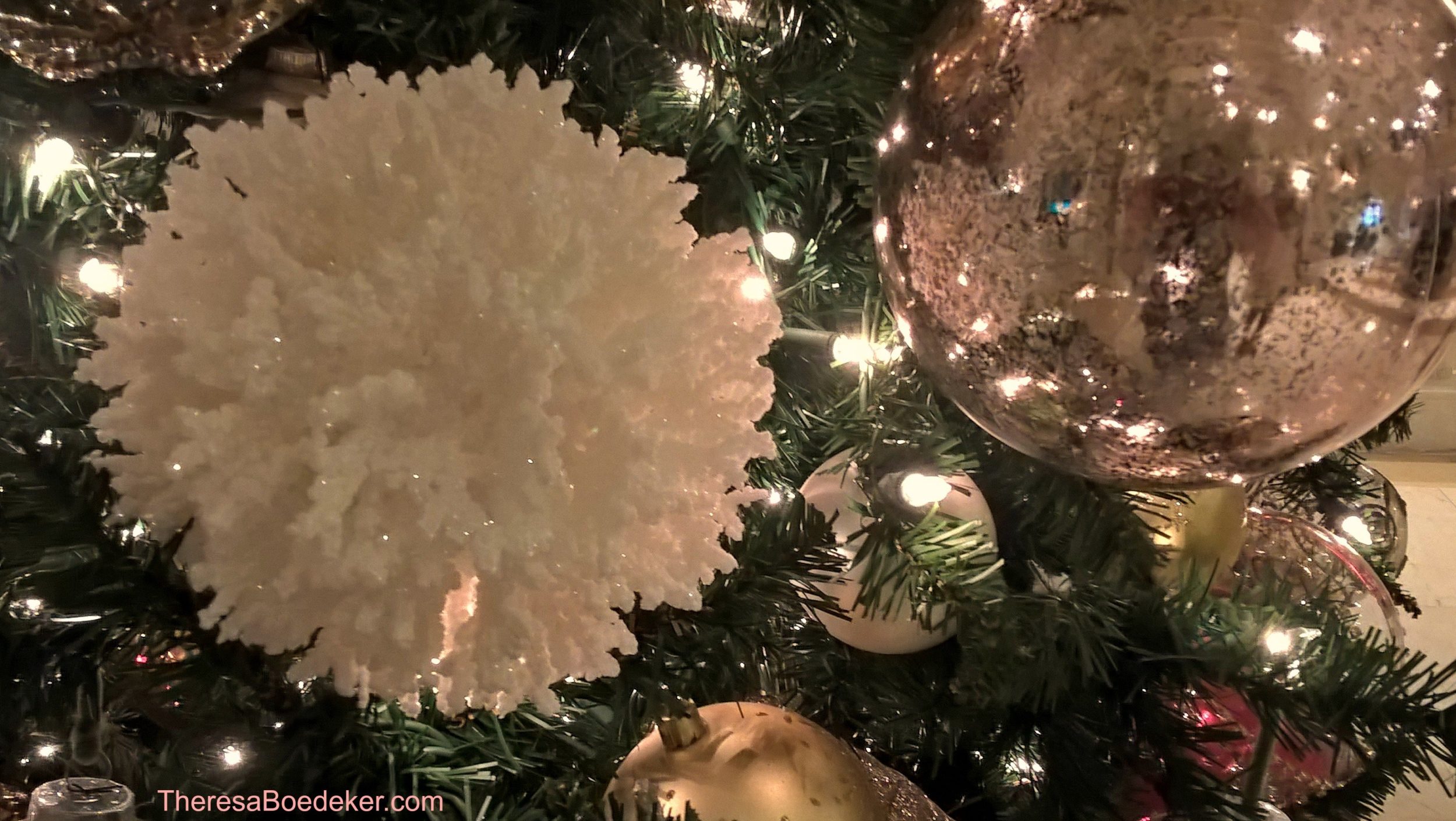 How to accept Christmas as it comes.
Our desires are good.
Our reasons are good.
But trying to orchestrate a Christmas that looks like it belongs on the set of a Hallmark movie is often a bit unrealistic. Disappointment often sets in when reality turns out to resemble National Lampoon's Christmas Vacation with the Griswolds, more than then the organized celebration we had planned.
I don't have all the answers, but here are a few tips that might help:
1. Release all the specific expectations you have, especially the unrealistic ones.
Like the ones where all the gifts will be opened slowly, and the gift wrap folded to be used again. That no one will yawn or loudly need something during the reading of the Christmas story. That everyone will like all the food on the table. Or that a family somehow magically gets along better just because it is Christmas day.
Allow for humans to be humans. Kids to be kids. And that people will likely act like they have in the past. Or even like they did yesterday.
Allow for mistakes. Gifts not found. Food not eaten. Dishes overdone or underdone. Broken things, spills, and forgotten things.
Allow for feelings and moods. Your own and others. People missing loved ones. People complaining. People wanting something different. Sadness for missing people, and a little resentment at the ones you don't want there. Tired ones and cranky ones.
2. Accept what unfolds and quit trying to control.
Our job is not to orchestrate and control everything. We plan and allow things to unfold.
We cannot control if everyone is having fun. If the food is perfect. If all thoughts are holy. Or if our kids will even appreciate all the work and planning that goes into the celebration.
When we quit trying to control, and instead hold our hands open and receive the gifts before us, we will better enjoy our people, the food, and focus on the correct things. We will see the small ways that life is happening, and God is appearing.
3. Life is cumulative.
Many things in life we rinse and repeat. We go to church over and over. We go to school year after year. We have Christmas repeatedly.
You don't need to do everything this year, because we have the opportunity to redo Christmas next year. Christmas is cumulative, like so many things in life. So those three wonderful ideas you didn't get to try this year, well, there is next year. We don't have to adopt a frantic breakneck speed and try to accomplish everything, give our family every good memory, or bake every delicious cookie. There is next year. And the next year.
Christmas is like a painting. Each year you add a different color. Over time you will have a beautiful picture made up of many different memories.
4. Allow God into your celebration.
Let him be a part of the season and share with him the hard, good, and not so good. He wants to know your plans, failed expectations, your emotions, and fears.
Remember he is not placing demands or expectations on you. He is loving you and delighting in you. He cares for you and wants to be a part of it all. To hear your hurts and hear your joys.
5. Their perfect is not your perfect.
Everyone comes to this day with different expectations, and ideas of what the perfect day looks like. Your child's perfect Christmas is, I guarantee, different from yours. Take this into account and remember what you consider a failure, Aunt Betty may think is entertaining. What you dislike, a child may take delight in.
6. Christmas may look different, and that is okay.
Christmas may look different from past Christmases for so many different reasons. So be proactive. Plan ahead. Just because it looks different, doesn't equate to bad.
Whatever you do, don't just mope through the day, have a plan to do fun and special things. Eat something you are looking forward to. Read books. Watch movies. Take walks. Call and zoom with loved ones. Play games. Do puzzles. Work on crafts. Take a nap. Take a drive. The point is to have fun and make the day enjoyable. A celebration of one or two can still be a celebration.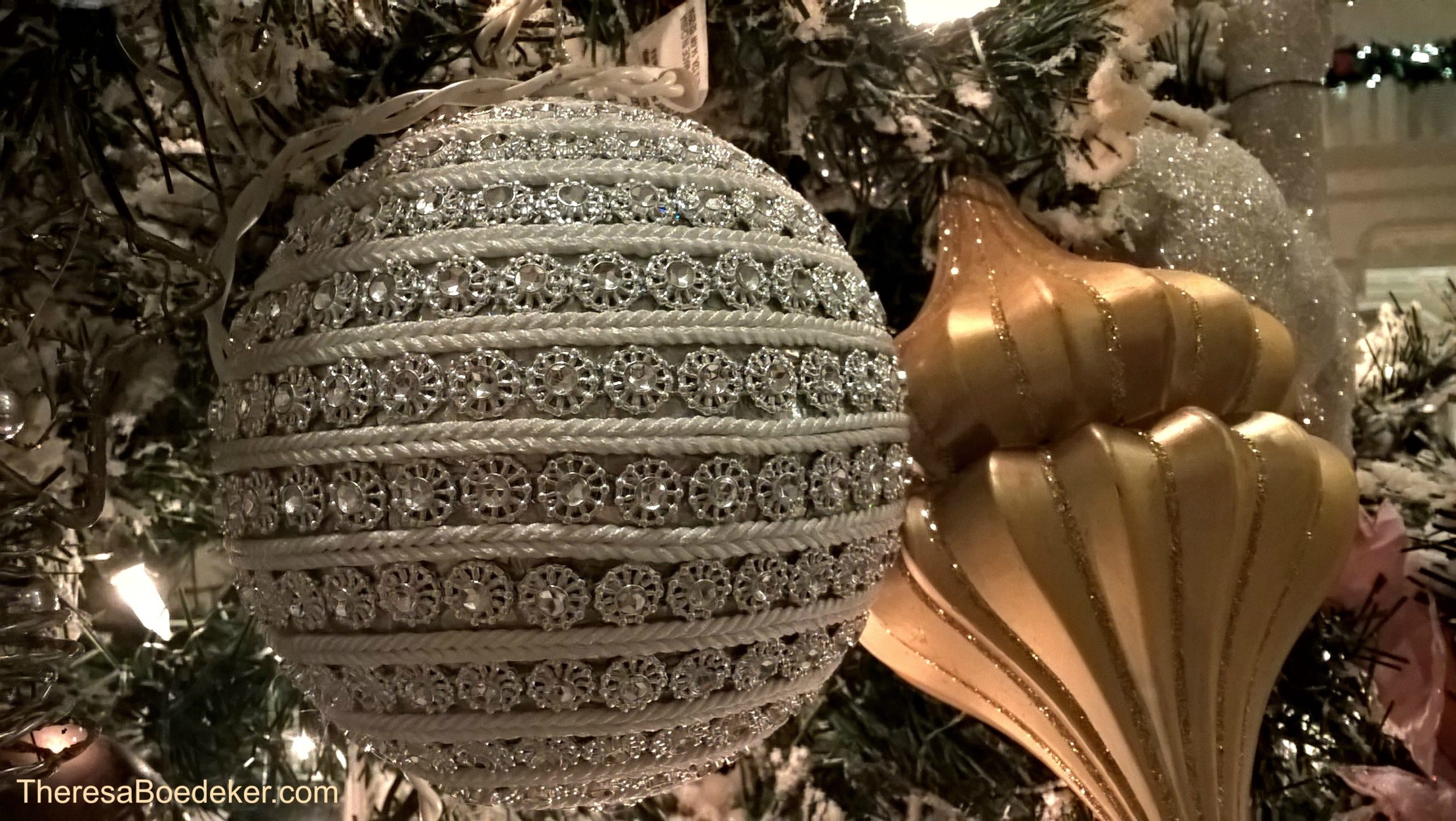 Adding the joy and fun back into Christmas
This Christmas may not unfold the way we wish it would, but that's not all bad. We can still enjoy Christmas with all its imperfections.
Take a deep breath. Release expectations. And look at Christmas with new eyes that see the blessings it brings.
Orchestrating takes too much work and sucks the joy from the day. But accepting Christmas as it comes, makes it easier for us and those around us. And it adds the fun and joy back into the equation.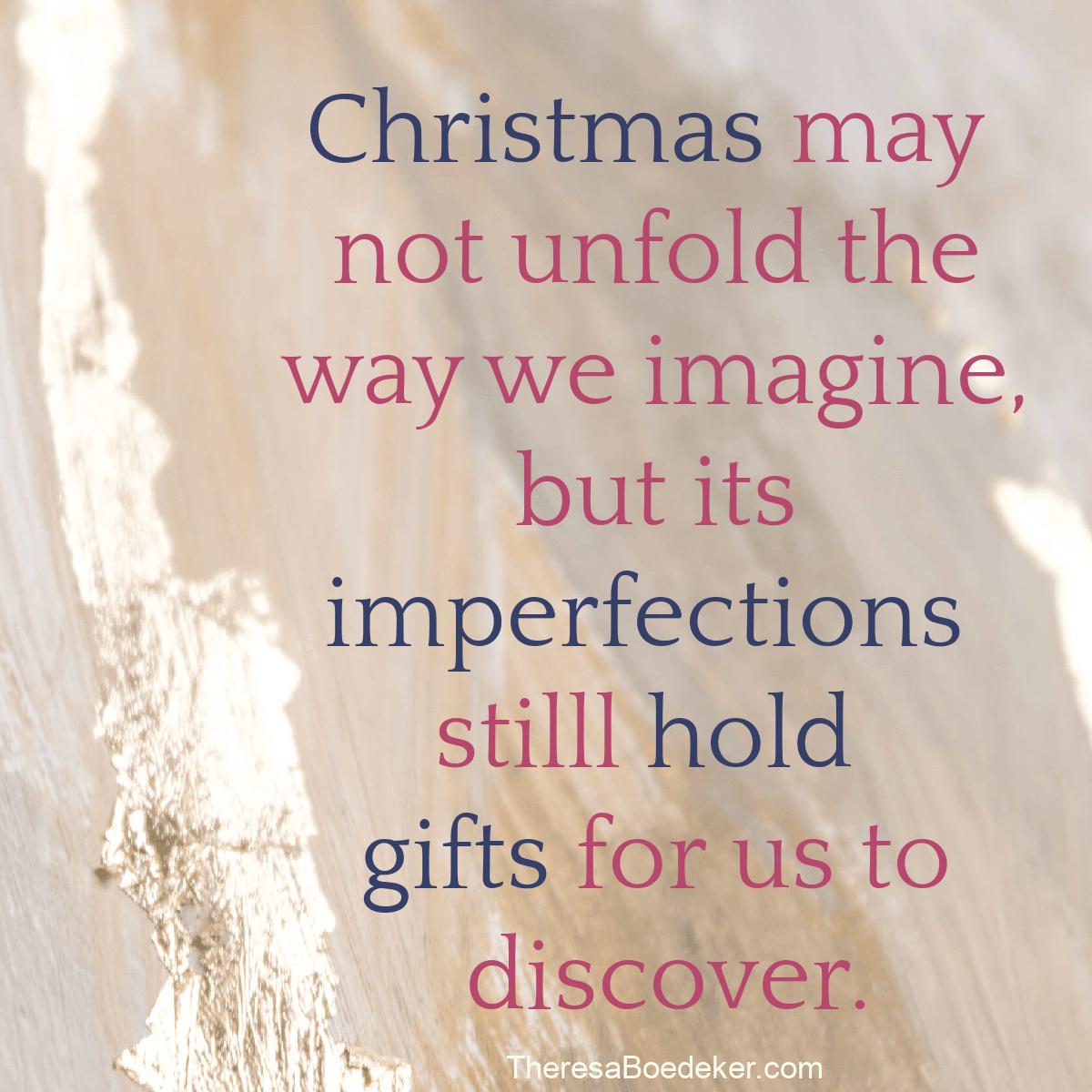 Blessings on your creativity in celebrating!
Theresa
Join the discussion: How do you release the need to orchestrate and allow Christmas to unfold?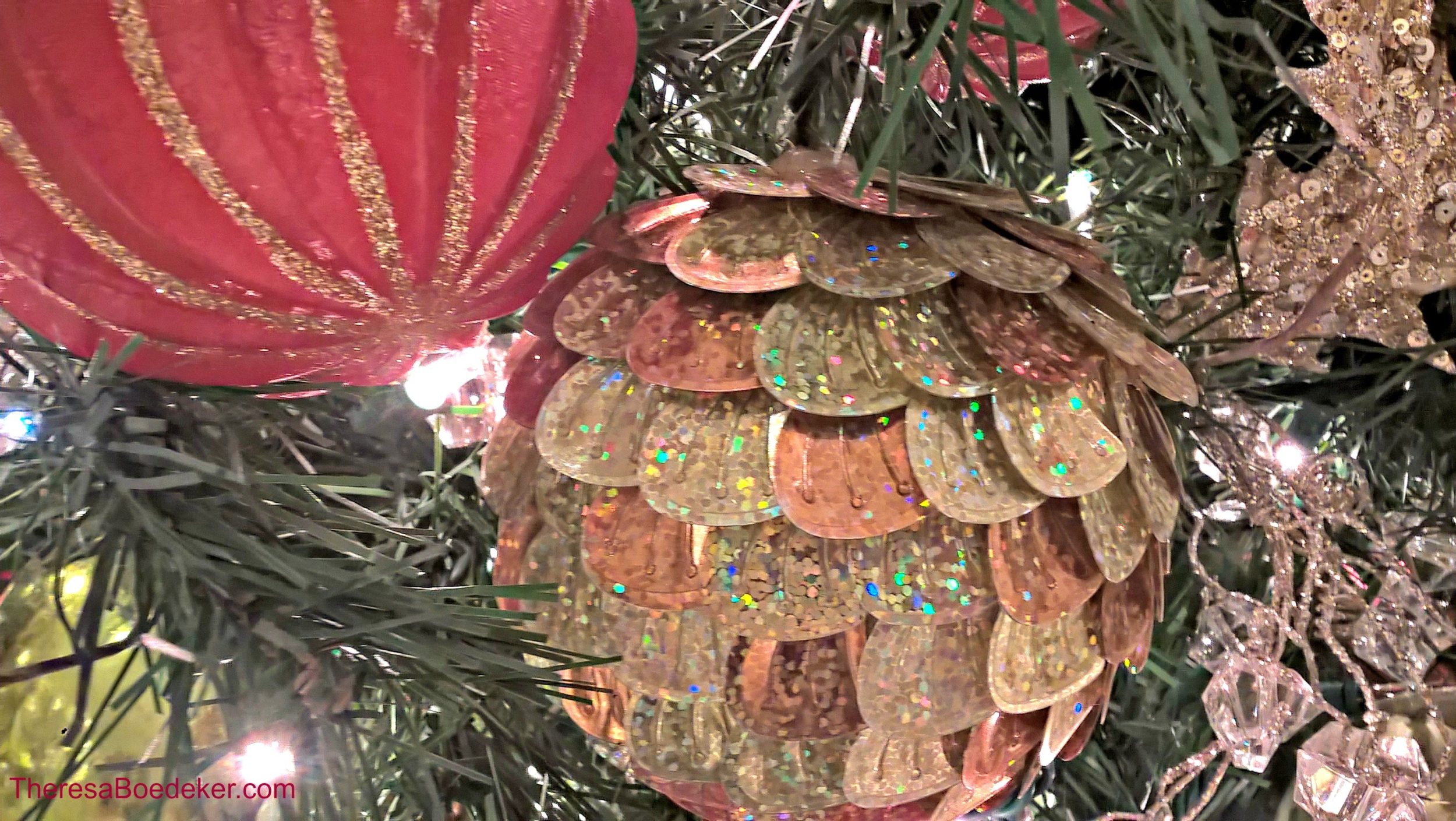 May link up at Maree Dee (#Grace & Truth), Anita Ojeda (#inspirememonday), InstaEncouagements ((IE Link-Up), and Jeanne Takenaka (#tellhisstory).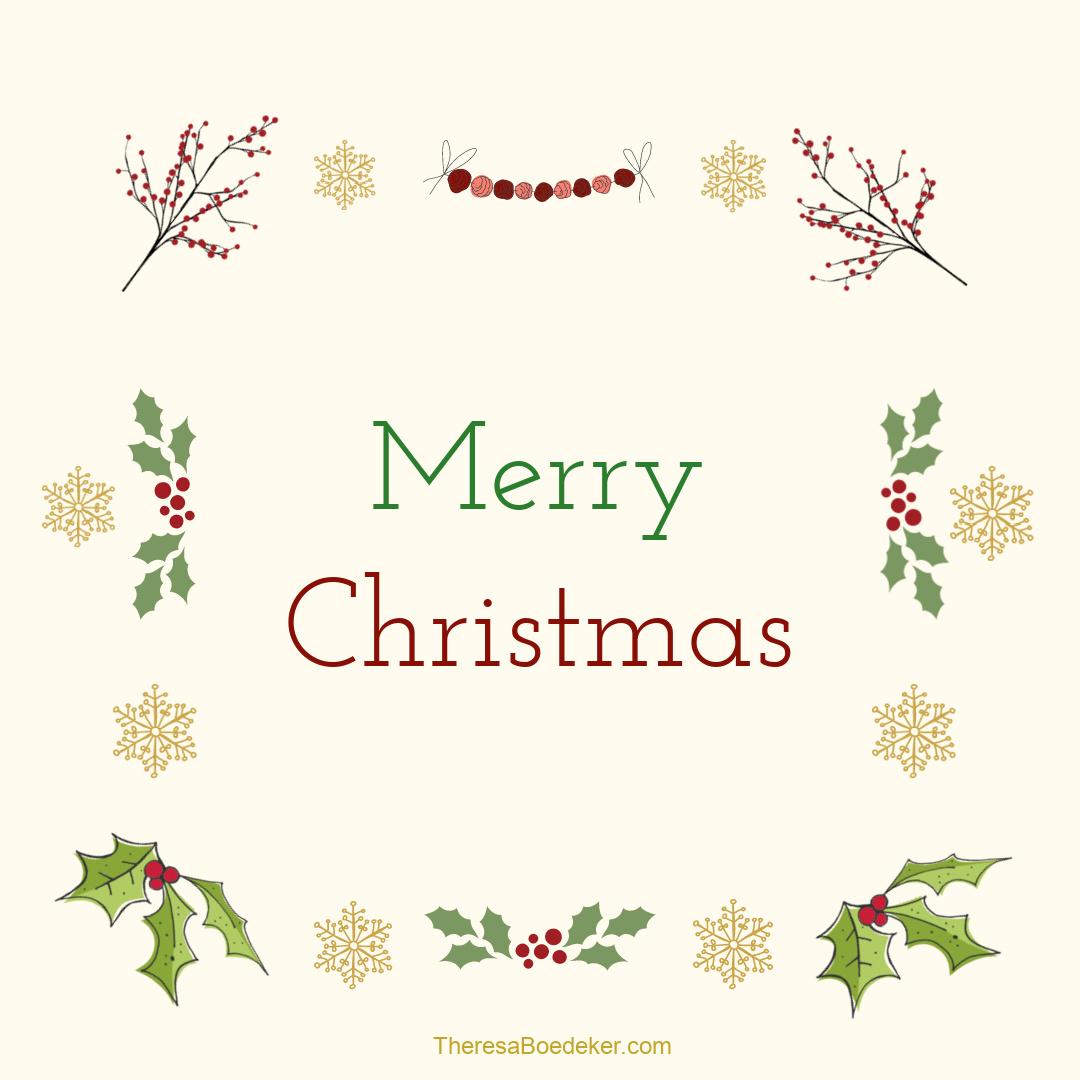 Latest posts by Theresa Boedeker
(see all)