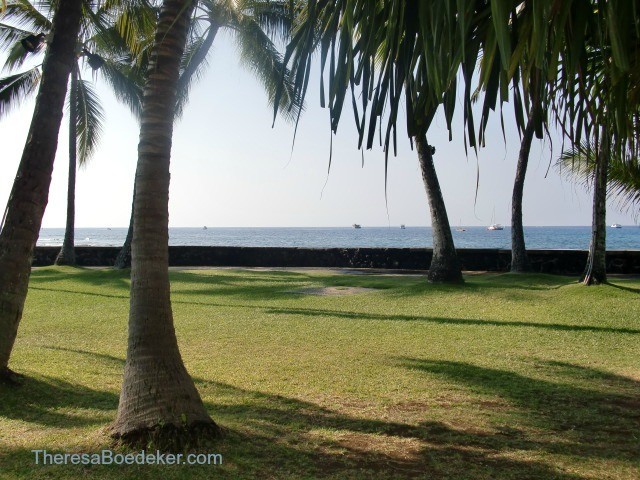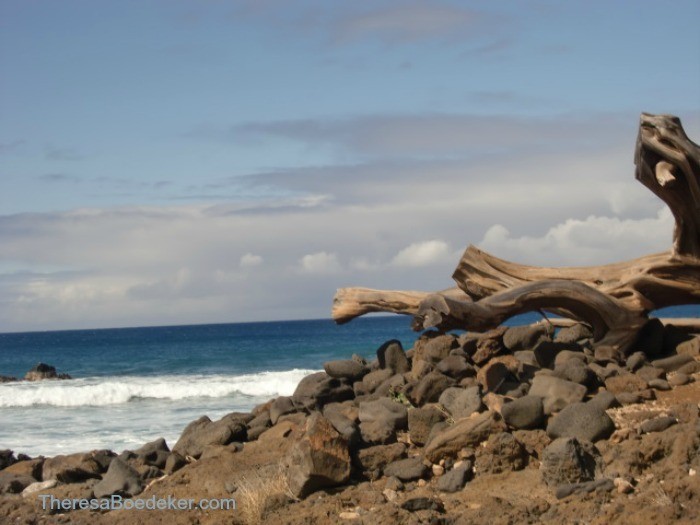 My grandparents headed to Arizona during the winter months, leaving me wondering why they left every year and why on Sunday nights we couldn't visit them. Now with each passing winter, I understand more and more why they headed south. South towards the sun and warm balmy days.
Heading south is not an option, though. Even if I live where it is cold outside. So, what are we to do?
Winter blows in with cold temperatures. At first it is fun to wear those winter coats, sweaters, and long sleeve shirts that have been lying unused. Christmas arrives, amid parties and a flurry of activities that take minds off the cold. January arrives, and there is a new meaning to cold. To darkness. To dreary, now that all the Christmas decorations and lights are packed away.
It feels like there is nothing to do but hunker down and wait.
Then February sneaks in, and while the days are getting a little longer, it feels like winter will never end. The weather is unpredictable and cancels calendar plans. Sickness stalks the aisles.  The house feels like it will never be warm again.
By February, I tend to wear the few same things over and over. What does it matter what cute shirt I wear as a hoodie or thick sweater tops everything? And when I venture out, a coat tends to stay on more often then not. I feel like I will never be toasty warm again.
As February unfolds, I need to force myself outside for walks. To leave the house more often. To remind myself that winter has never lasted forever. To feed our souls. 
Find things that nourish your soul.
It seems that during this time period, this waiting for winter to end, it is little things that tend to bring me happiness. Little things that make me smile. Little things that brighten my day. Little things that sustain me.
Hot tea with honey and milk.
Fingerless gloves.
Good books.
Blankets to snuggle under.
Conversations with family and friends.
Windows that spill in light and sunshine.
Planning summer trips and activities.
A happy (bright colored) winter coat.
Flannel sheets, topped with a down comforter.
Pie of any kind.
Hugs
Memories of warmer times and places.
A good belly laugh.
Thoughts of spring and knowing it will return.
Knowing that I am not the only one waiting. Hoping. Dreaming of spring.
So, what bringing you happiness during winter?
What is sustaining you in these cold winter months?
How to nurture yourself.
Don't wait until spring to be happy and satisfied. Find something that can sustain you now.
Winter is a time of rest, regrouping, and refreshing so growth emerges forth come spring.
Winter is a time of counting different blessings and finding joy in the starkness that surrounds us.
We may have to look harder to find the positive, to notice our blessings, to find the joy, but it is there.
Find it. Count it. Do it. Be happy. And then share that happiness with others.   
All that sharing will create community that lasts long past the seasons.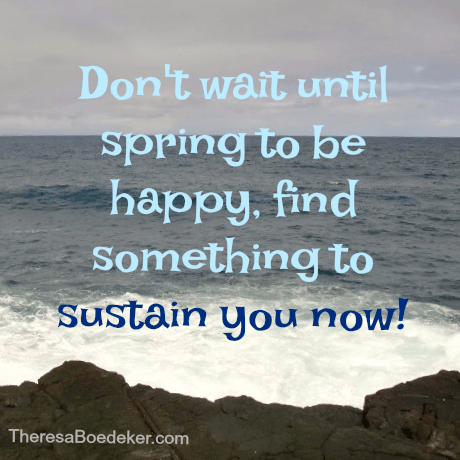 Thanks for stopping by. Keep remembering what's important.
Theresa
---
If you need some weekly encouragement and hope, tied up with some humor? Subscribe and join the journey. Life is sweeter when we walk alongside one another.
---
Join the discussion: What is bringing you happiness and helping you get through these winter months?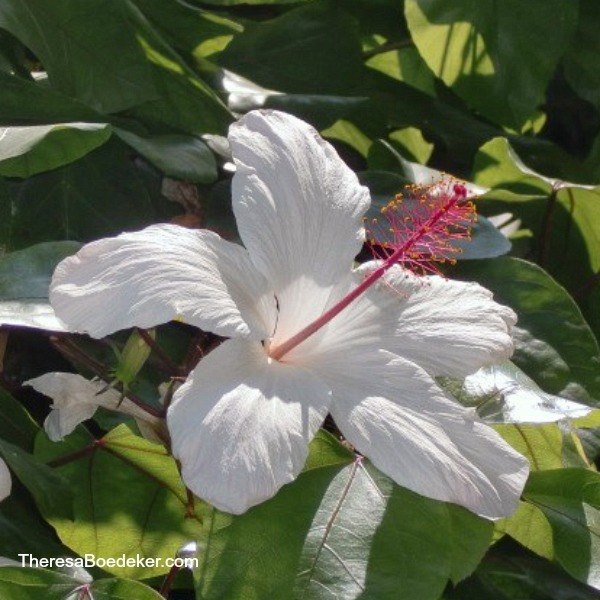 May link up at Jennifer Dukes Lee (#tellhisstory);  Holley Gerth (#coffeeforyourheart), Lori Schumaker (#Moments of Hope), Crystal Storms (#HeartEncouragement), Arabah Joy (#Grace & Truth).
Latest posts by Theresa Boedeker
(see all)