Learn how to stop beating yourself up for your mistakes, the small things you forget to do, the things that slip your mind?
---
"You're early" the receptionist said, as I was checking my teenage son into his doctor's appointment.
It had been one of those days. Not the worst ever, and not the best, but one full of stress and surprises.
I smiled inwardly. Congratulating myself on getting us there early. No small feat, as I am known for being 'just on time.'
My trampled confidence rose and bloomed. The dials on the wall said I was ten minutes early.
"Great," I smiled.
I anticipated reading my book.
"I mean you are way too early."
Luckily, my book had a lot of unread pages. "How early are we talking?"
"You came on the wrong day." She says. "Right time; wrong day."
This didn't sound like good news. Had I pulled my son from school for a non-existent doctor appointment?
My confidence was deflating faster than a balloon whistling around the room, flattening itself to the floor.
"How early are we?"
She taps her fingernails against the desk. "Exactly one month to early."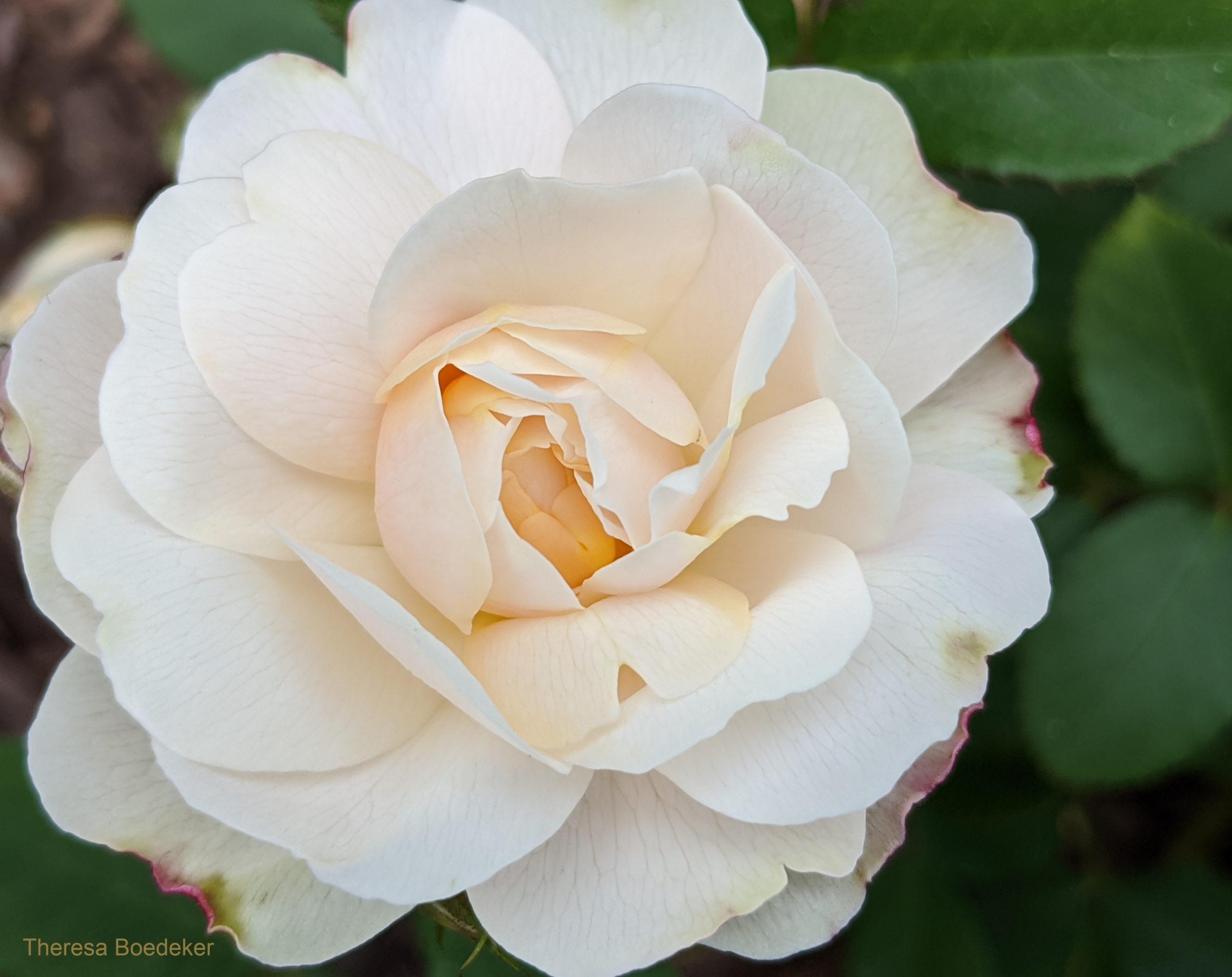 When it's hard to accept forgiveness?
I apologized on the way home. He is calm. Accepting.
But not me. I am upset. Silent and angry at myself.
For wasting time. For inconveniencing him and me. For rushing to get there a whole month early.
I have done this before. But it has been years. With a different kid. And a different doctor.
I know when my husband calls to ask about the appointment later today, he will laugh when I tell him I was a month early.
Only I don't feel like laughing right now. I feel like a failure.
Can't I get something as simple as a doctor's appointment, correct?
I get lots of things correct, but right now, only the things I get wrong or have gotten wrong are marching through my mind. Each holding a sign saying look at me and see your failures.
As trees speed by, my son tells me not to worry.
I ask his forgiveness again. And he again gives it to me.
But the truth is, I don't accept it. I don't feel like I should be let off the hook so easily.
If it was just me showing up a month early, it would be easier to laugh at and shrug off. But when I have inconvenienced others, when someone else besides just me is involved, it is harder. I feel I have not only let myself down, but them as well.
And maybe it's because I like to think I am in control of my life, and my mess up shows I have less control than I think I should have.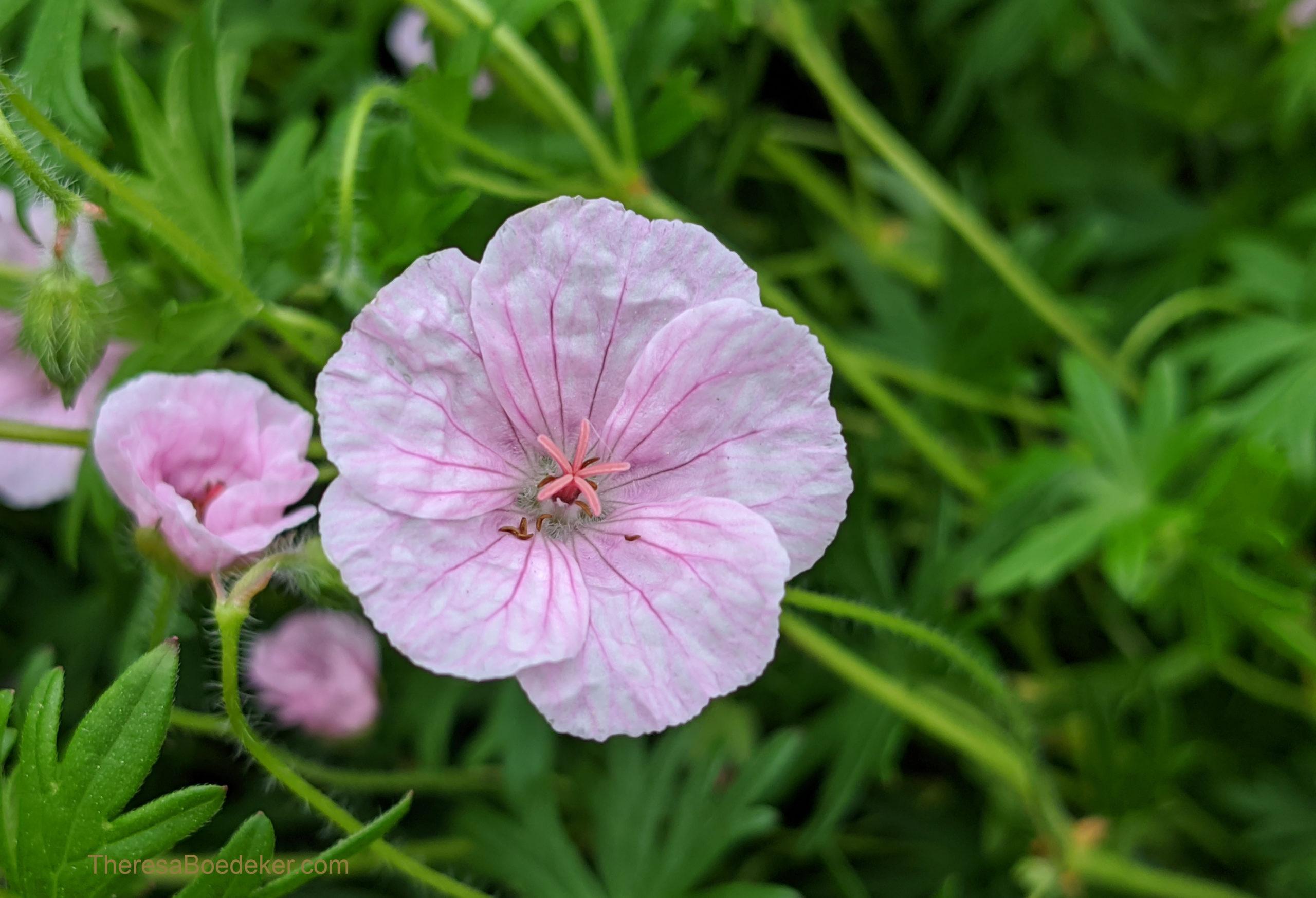 Why do we beat ourselves up over the small things?
Maybe you can relate.
Is it hard sometimes to shake off your mistakes?
The choices you didn't mean to do?
The intentions left undone or forgotten?
The things you didn't get to?
The outcomes you didn't foresee.?
I know for me it can be.
Sometimes it is the small things I beat myself up for. Feel dread and responsibility for. Refuse to accept forgiveness for.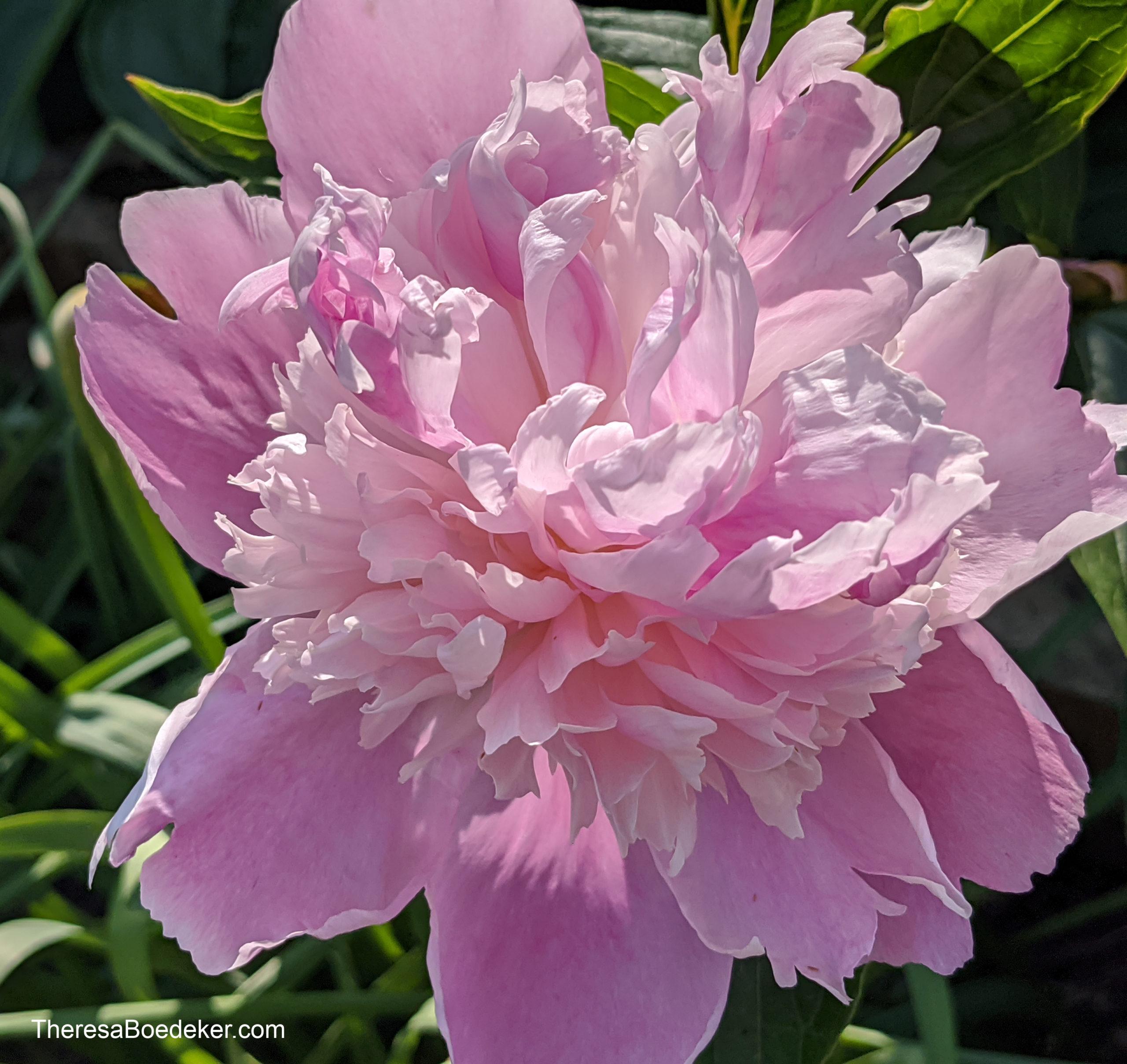 Why we can't accept forgiveness.
I don't know what lie you believe, or what lie keeps you stuck in angst over the small things you get wrong. The things you find hard to let go and receive forgiveness about.
Is it because you believe the lie that:
You should have known better.
You shouldn't make mistakes.
You should be more observant, more thoughtful, more (fill in the blanks)?
You deserve to be punished and hung on the hook for X amount of time?
You deserve to suffer and feel the consequences.
 You should have more control over your life.
The truth is we are human. And human's fail and make mistakes in so many ways. Big and little.
The truth is you deserve freedom and forgiveness.
The truth is we need to start accepting the free gift of forgiveness and grace.
It's not about what we have done or deserve. It's about what He has done and the gifts He gives us.
We can spend copious amounts of time and mental energy beating ourselves up and standing ourselves in the corner, or we can see it as an opportunity to learn from and extend ourselves some grace. One will leave us and those around us wrung out, and the latter one will model healthy coping techniques and God's character.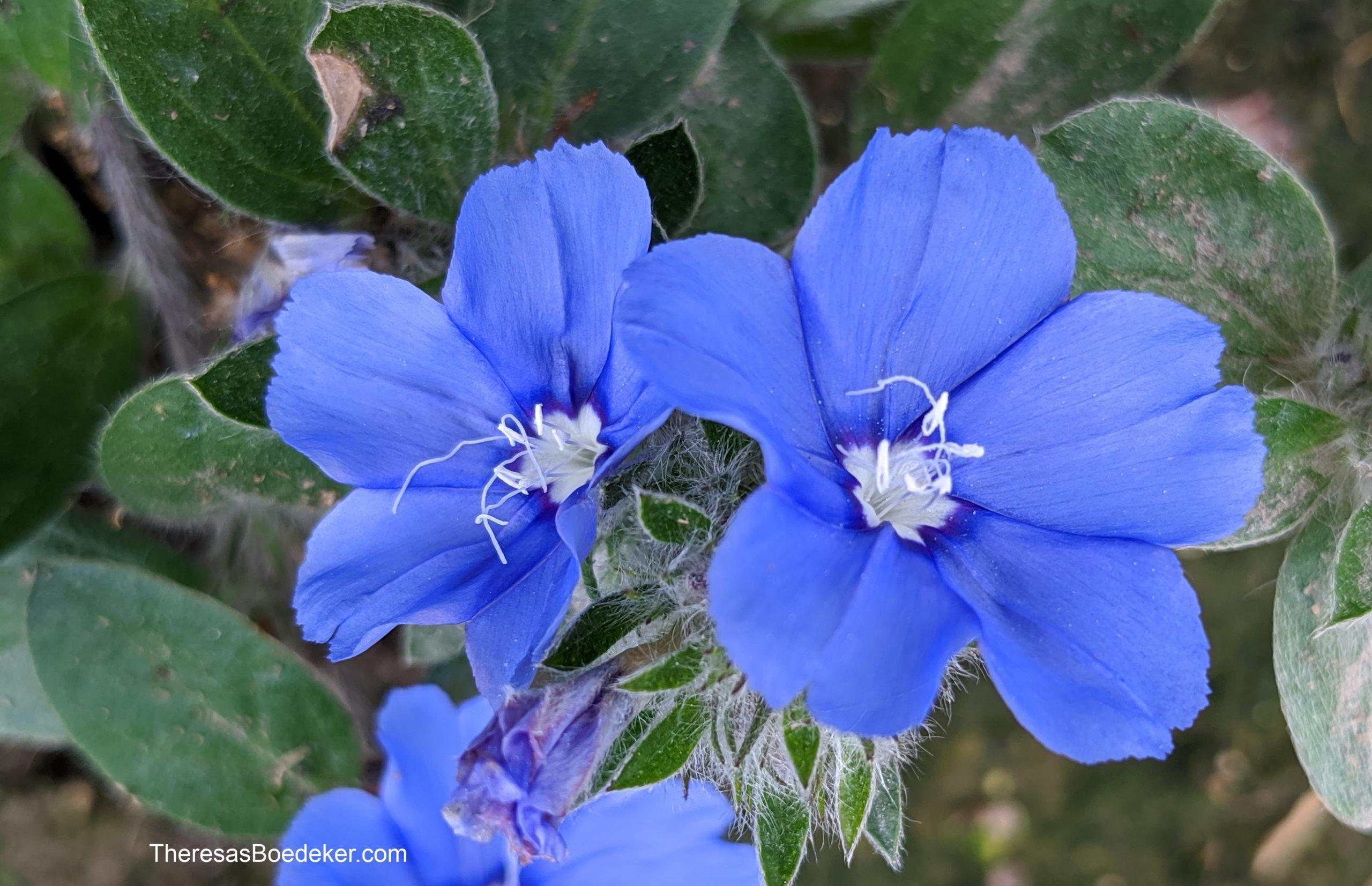 Where do you spending your energy and time?
Maybe we need to just start accepting grace and forgiveness.
And not just for the big things we do, but for all the little things we do and leave undone.
Have you noticed, we are often hardest on ourselves over the smaller things?
Maybe because we have such exceptionally high standards for ourselves.
In God's economy, he doesn't beat us up, but lavishes us with what we don't deserve or can even earn. Grace and forgiveness. New starts. Multiple times.
It's our enemy who beats us up. Bases our worth on our actions. Tells us our tries are up.
Let's live in God's economy.
It is as simple as accepting and applying the forgiveness and grace that is always waiting for us. Even when we feel we don't deserve it.
Can we accept it (even when others don't offer it to us) and release the stigma, pain, and anger we are carrying against ourselves?
God is there with hands full of grace and forgiveness.
Can we just accept it and not beat ourselves up?
Even for the small things?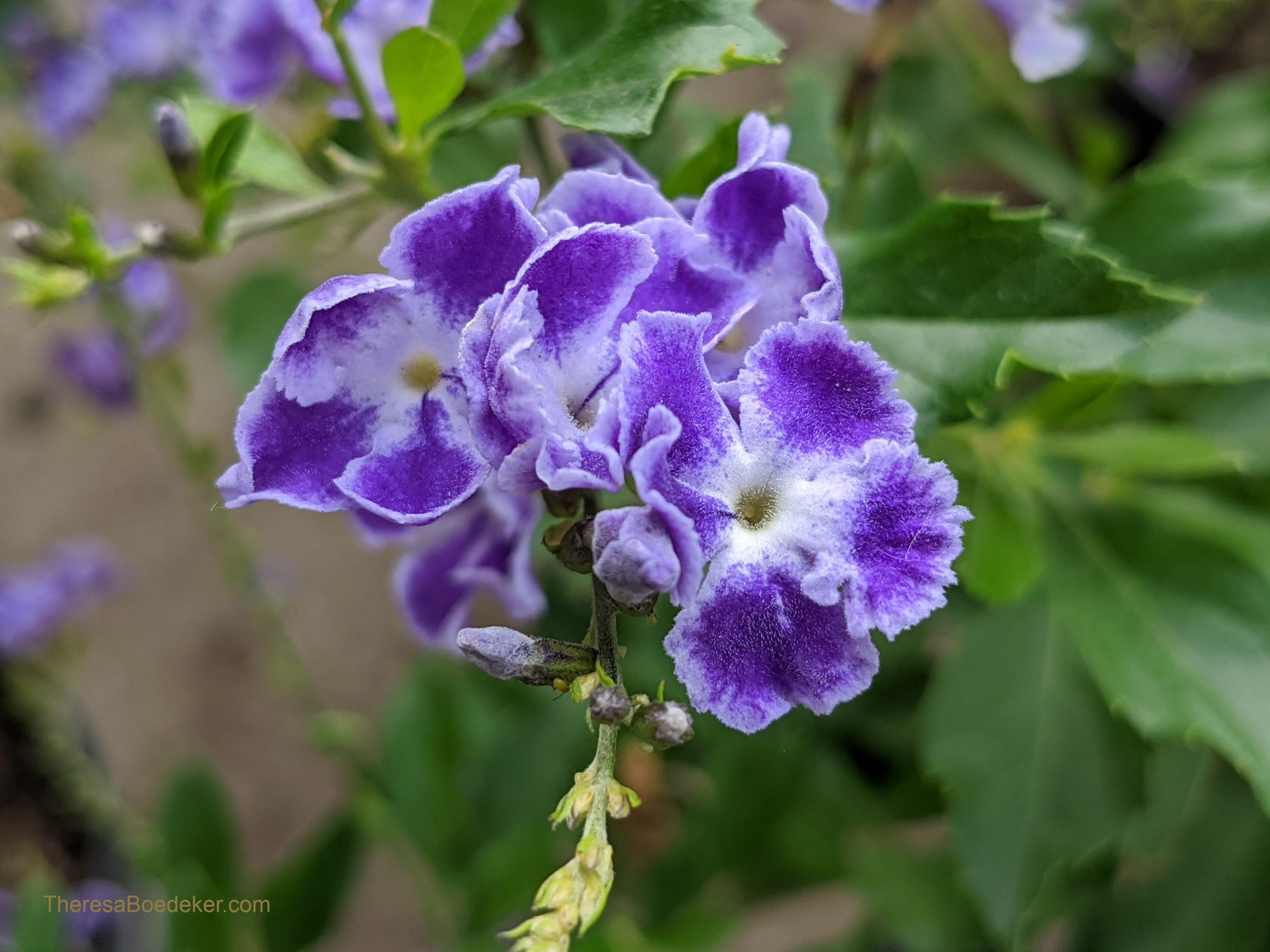 Quit punishing yourself over the small things.
Open your heart and receive grace for:
Not closing the garage door before bed so its mouth stretched open all night.
Tuning the tighty-whities pink in the laundry.
For waiting to long to go grocery shopping.
For getting dinner on the dinner table so late.
Shrinking the already to short dress pants.
For waking your sleeping mate up and then them not being able to fall back to sleep for the rest of the night.
For forgetting to sign and turn in the field-trip slip.
Open your arms and receive forgiveness for.
Picking up the kids late.
Not calling your mother.
Not keeping a promise made to someone.
Saying you are fine when you are not.
Yelling at the kids and dog.
Finding the pet's water bowl desert dry.
Forgetting to pick up the dry cleaning.
Leaving the freezer door open.
Not believing your child when they were telling the truth.
Judging a friend and then hearing the truth and realizing you were wrong.
Accept that you don't need to carry guilt around, and receive grace and forgiveness for:
Gossiping about the neighbor.
Killing the house plants.
For not really listening when you needed me to.
For misjudging your family.
For letting people take advantage of you.
For being a people pleaser, thinking you needed to earn love from others.
For believing lies about yourself, God, and others.
For waiting so long to do what you should have done long ago.
For being so selfish.
For beating yourself up.
For believing your harsh words over your loving words.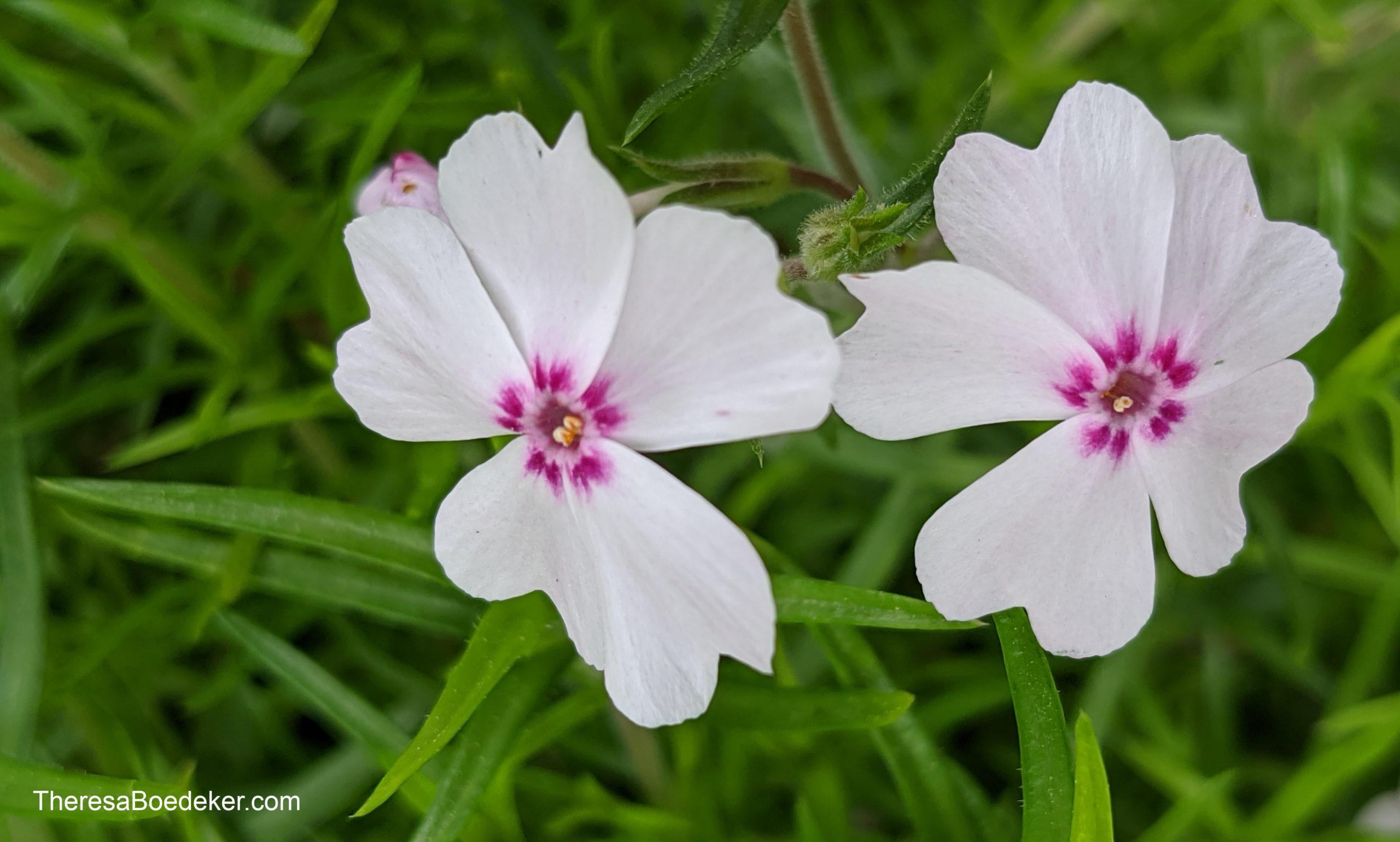 How to stop beating yourself up.
Take responsibility and learn from life's opportunities.
Receive forgiveness and grace.
Wash the list clean of things big and small.
And start again.
Fix what you can. Apologize often. Learn from life's opportunities. Allow yourself to be human. Accept that your mistakes are not failures. Accept what happened and don't tie it into your self-worth. Take steps to correct the consequences of your actions. Know that the penalty for sin has been paid. Extend grace and forgiveness to others. And learn to laugh at yourself.
Don't beat yourself up, and in the process, reject grace and forgiveness. Or you are missing out.   
Embrace the truth: Beating yourself up does not change the reality that you are forgiven and clothed with grace.
He has enough for everything big and small.
All we have to do is set down our pride and accept it.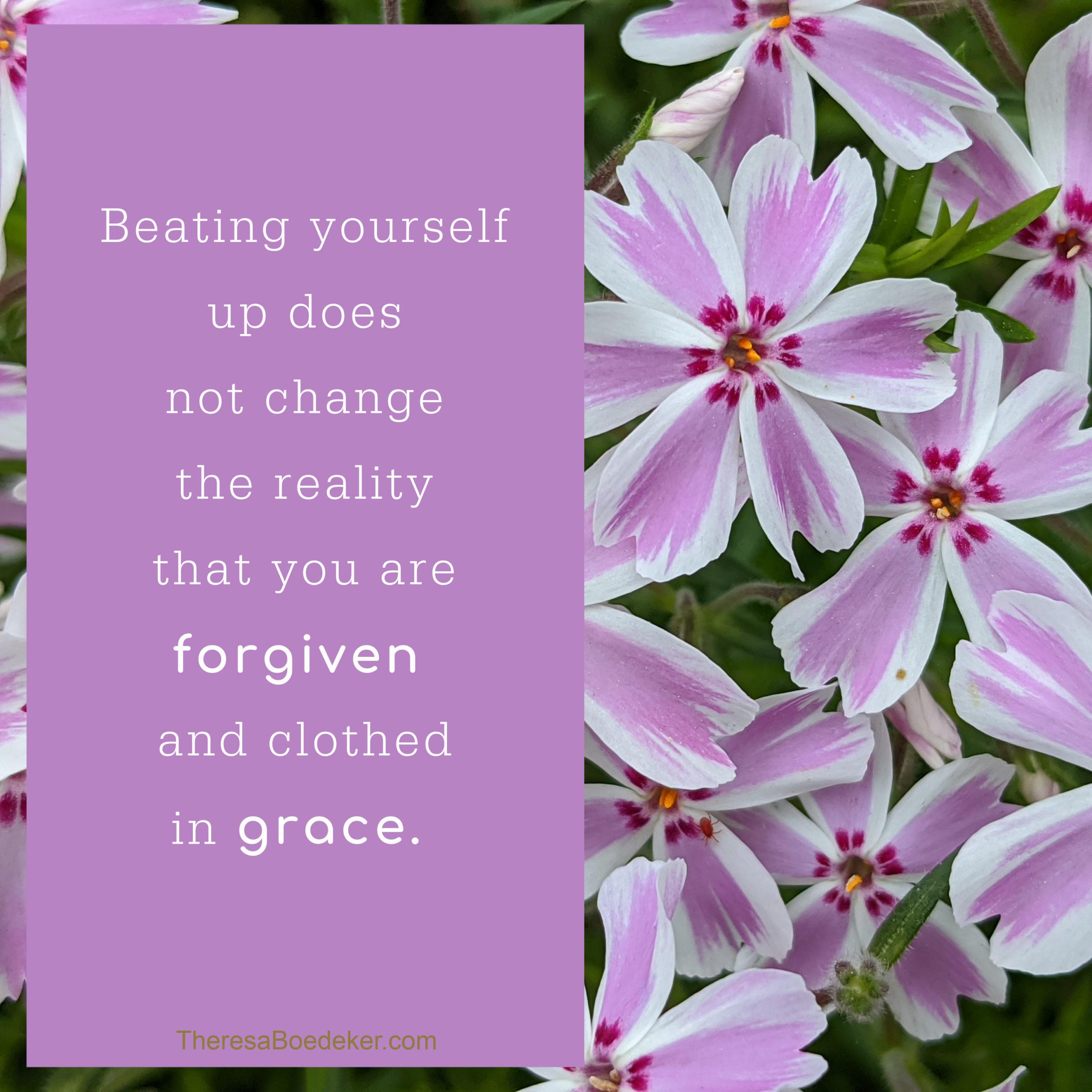 Thanks for stopping by. Keep remembering what's important.
Theresa
Join the discussion: Do you have a harder time accepting grace and forgiveness for the small things or the bigger things?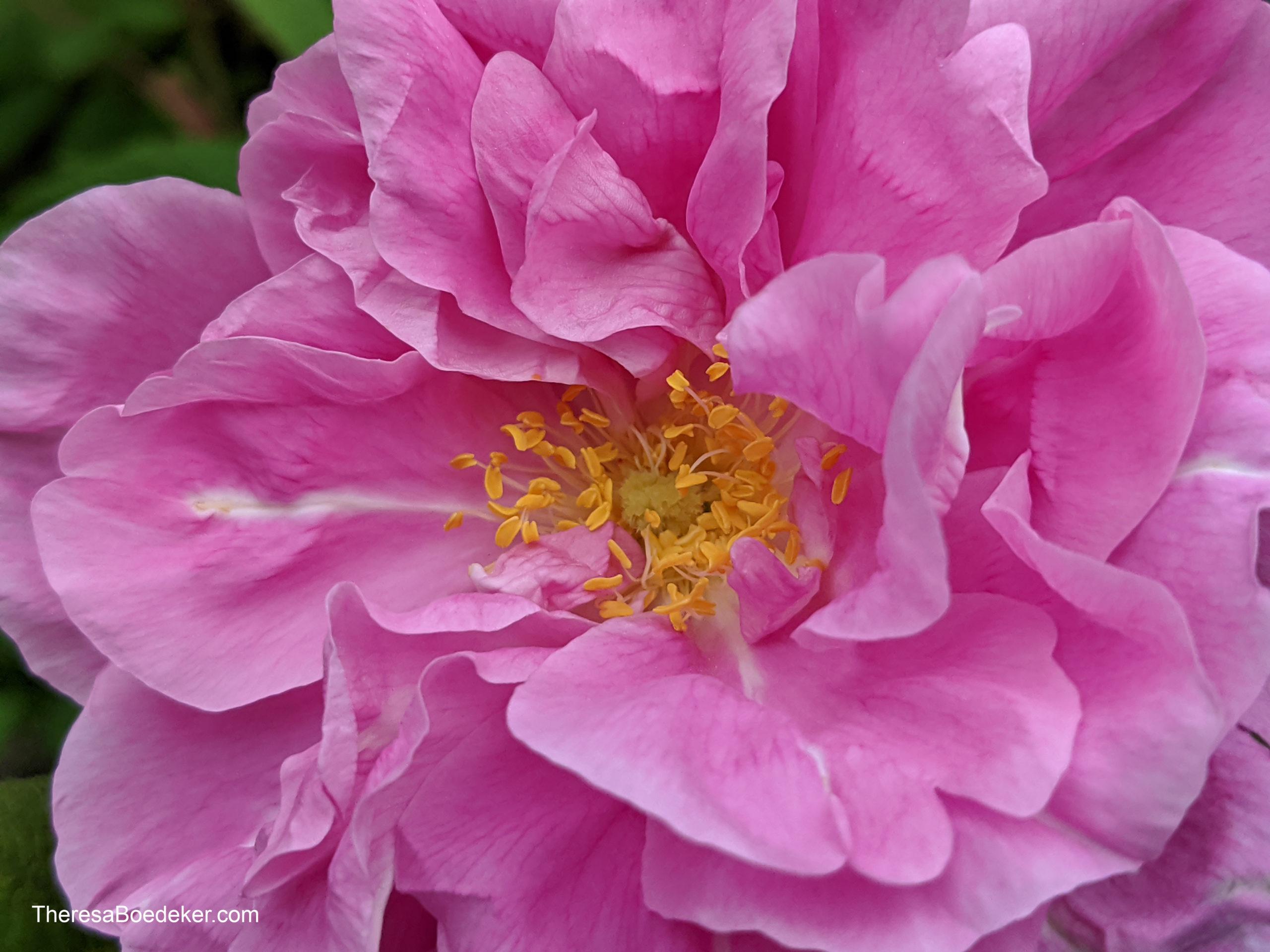 May link up at Crystal Storms (#HeartEncouragement), Maree Dee (#Grace & Truth), Anita Ojeda (#inspirememonday), InstaEncouagements ((IE Link-Up), and Jeanne Takenaka (#tellhisstory).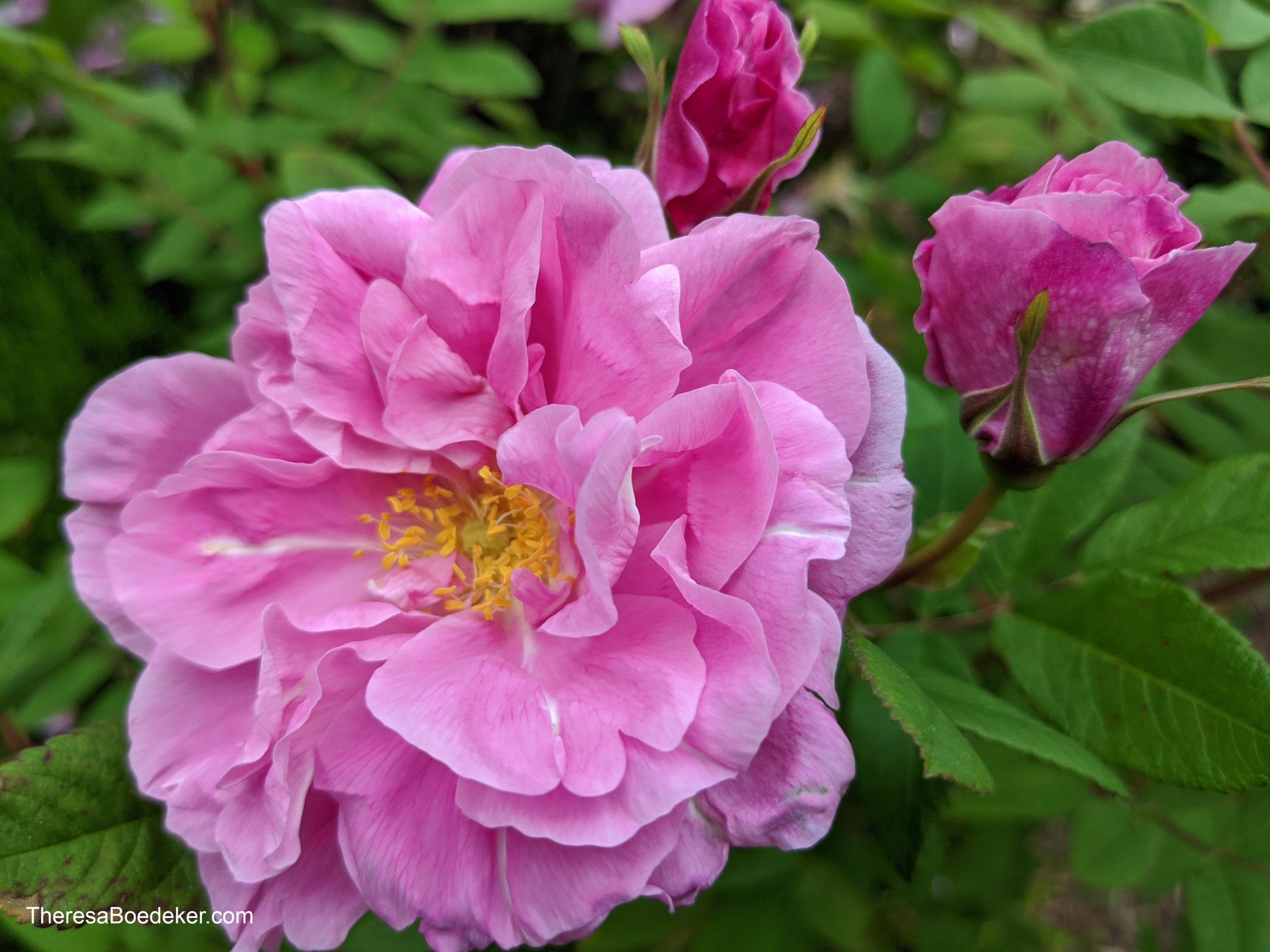 Latest posts by Theresa Boedeker
(see all)